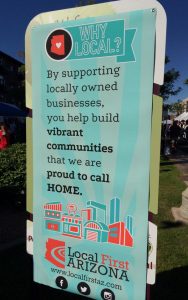 Getting the Word Out
Kimber Lanning, Founder and Director, is flying all over the country to speak to other Local First organizations. Why? Kimber and her team have successfully grown the Local First organization in Arizona into a large statewide business coalition representing nearly 3,000 locally owned businesses of all industries and in all sizes across the state.
Why Local First?
Local First Arizona is a nonprofit organization that celebrates independent, locally owned businesses. They support, promote and advocate for a strong local business community and raise public awareness of the economic and cultural benefits provided by strong local economies. Join us for this podcast and hear from Kimber why loving your local businesses is so important and how it leads to building strong, sustainable communities.