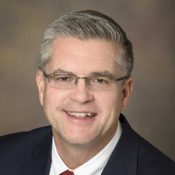 Tucson Electric Power 2020 Spotlight Series, Episode 6,  Each year, Tucson Electric Power, recognizes local businesses, organizations and individuals that partner with them to preserve the environment and promote sustainability. These are forward-thinking partners who are creative and effective in their approaches to promoting greater sustainability in the Tucson community. We are spotlighting the 2020 community partners in this special ten episode series.
This episode made possible by the generous support of Tucson Electric Power
Get More Mrs. Green's World
Sign up for our newsletter: https://bit.ly/mgwnews-signup
Power the Movement on Patreon: https://bit.ly/2DvKnxT
Be Social with Us:
Facebook: https://bit.ly/2KWLIOH
Twitter: https://bit.ly/3fldZfK
Instagram: https://bit.ly/3fmHIVo
LinkedIn: https://bit.ly/2EMtCz3
SUPPORT THE CREATION OF PODCASTS LIKE THIS ONE: BECOME A MEMBER TODAY!  
INSIGHTS
More about Chris Kopach: Christopher M. Kopach, Assistant Vice President of the Facilities Management Department at The University of Arizona obtained a Bachelor's Degree in Business Administration and a Master's Degree in Organizational Management while working full time. He has 30+ years of facilities management experience from the University of Michigan, contract services and The University of Arizona.  Chris is currently the Past President of APPA and the focus during his Presidency was "Harnessing and Transferring Knowledge" within our facilities field to address the large turnover of staff due to retirements by mentoring the younger professionals through education, leadership development and succession planning. He provides a solid leadership background that focuses on developing one team of highly efficient and effective employees working to improve processes that generate operational and financial savings back to the University, all while providing outstanding customer service.
More information about the 2020 – Big Picture Partner Award: The pace of innovation is accelerating all of the time, and universities are at the forefront of the revolution. With an agreement to purchase wind and solar energy from TEP, the UA became the largest research university in the country with a plan to offset all of its Scope 2 emissions – the ones associated with the power provided by utilities.
 GET INFORMED!