Our Future
Children are our future – the only future we will ever have. It is wonderful to know that many of those children are working on solutions to climate change, access to clean water, and creating alternative building methods by thinking critically and solving problems. So how do I know this, one might ask? Because I was honored to serve recently as a judge for something called the SARSEF Science and Engineering Fair and was assigned to judge fifth grade projects in the Earth and Environmental Sciences area. Piece of cake, right?
What is SARSEF?
I knew a bit about SARSEF and their work from colleagues and friends and I was delighted to learn that SARSEF's (Southern Arizona Research, Science and Engineering Foundation), a Tucson-based non-profit, mission is creating Arizona's future critical thinkers and problem solvers through science and engineering. They run a number of programs – all of which teach critical thinking. Each program prepares students for the future. Each impacts a varying range of students and brings a different focus and level of service. And if the Fair is in any way a measurement of their success, they are to be applauded for their impact. In terms of numbers, 95,000 K-12 students in S. AZ currently participate in SARSEF, conducting research projects to be considered as a representative of their school. The top 2,000 projects and 5,000 students are advanced to this weeklong celebration of their achievements and further competition at the Tucson Convention Center where I went to judge.
Inspiration
Not only was I blown away by the magnitude and scope of SARSEF's event, I was surprised, delighted and inspired by many of the projects themselves – so much so that I asked the staff running it if I could please live at the Tucson Community Center for a few days to soak in all the brilliance, creativity and complex issues addressed. And as I was judging the projects, I kept going up to our team leader and asking him: "Are you sure these are FIFTH graders?" And it wasn't because of glitzy bells and whistles and fancy displays. It was because of the content and the nature of the experiments they conducted. I was impressed by many of the projects, but a few stood out – such as "House Insulation Against Climate Change;" "Plants Promote Percolation;" "Weathering the Storm" and "Runoff in the Desert." The projects were judged on Research, Design & Method, Execution, Creativity and Presentation, and the ones I have listed met or exceeded the criteria AND were addressing some of our planet's most complex challenges. Overall, as I worked my way through the forty-one projects I had to judge, I found myself more and more impressed, excited, stunned and almost in total disbelief because of the complex subject matter as well as the thoroughness of most of the projects. Fifth graders indeed.
I left the SARSEF Fair filled with hope about our future because of the great minds at work among our young people searching for solutions on how to combat or survive in the face of climate change. I left believing that our next generation is going down the path of solving problems that they care about and are making a difference in our world. And I left feeling that whatever it is they choose to tackle, it will be done with great thought and great skill.
Gratitude
We at Mrs. Green's World are grateful to all those who help made this happen, including our friends at TEP who are one of the event's biggest sponsors. To learn more about SARSEF, join me for a conversation with Liz Baker-Bowman, Deputy Director of SARSEF on our podcast: Celebrating Partners in Sustainability. I look forward to being a part of this important and fun SARSEF Science and Engineering Fair next year!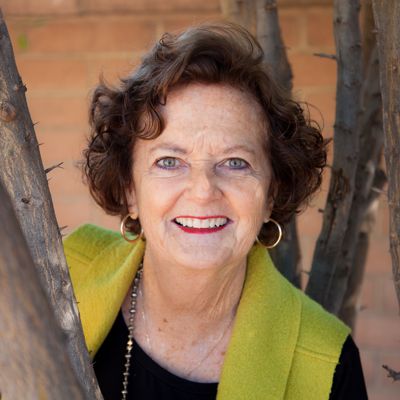 From about the age of five, Gina has been on the path of being a disruptor for good. A dreamer at heart, Gina is madly and passionately in love with this great planet of ours and is tireless in her efforts to preserve it.