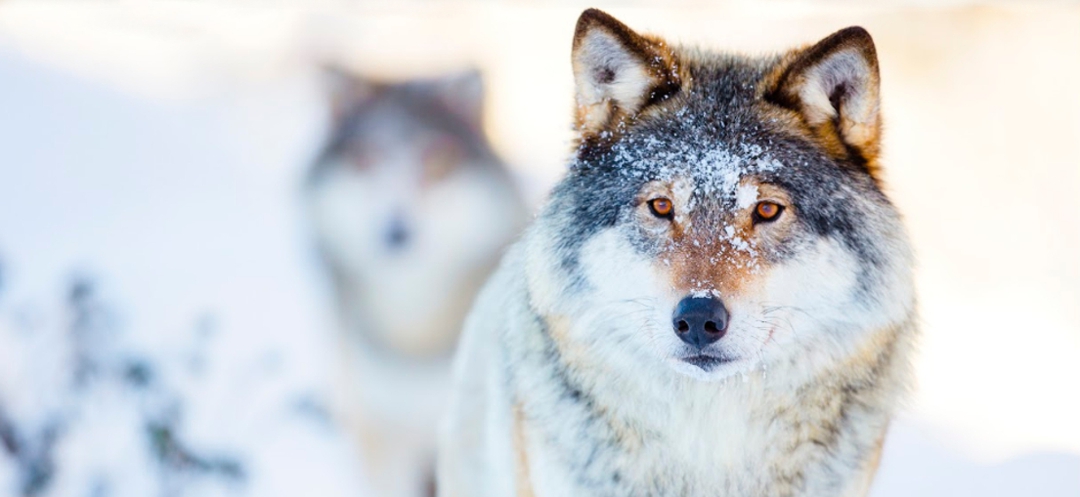 The Back Story
I can't remember when I first became obsessed with wolves – with their beauty, their playfulness, with their amazing commitment to family, with their brilliance, their strategies around bringing down their target working in a pack and, sadly,  with human's inhumane and heinous treatment of them throughout history. I have read many books about them, watched many films about them and with each experience, my obsession with them continues to grow. Brenda Peterson's book, Wolf Nation, took my obsession and interest to a new level and I knew I had to meet and observe wolves on my own. This is a story about my first encounter where I got to observe a wolf pack called the Junction Pack – a pack of twenty-one wolves living in the Lamar Valley in Yellowstone National Park.
The Experience
The time is 4:30 a.m. It's pitch black and cold outside as three of us (my husband James and my oldest friend Nancy) load ourselves, our binoculars and some snacks into the car for a two and a half hour trek to the Lamar Valley in the northeast part of Yellowstone National Park. My travelling companions don't quite share my enthusiasm at this point but are willing to "trust me on this one."  They haven't read everything I have about the number one Wolf Watcher in the world: Rick McIntyre. I know that Rick has worked in national parks for more than fifty years and has recorded more sightings of wild wolves than any other person on the planet. For fifteen years, he rose every day before dawn to observe the Yellowstone wolves. And, now, even though he is retired, he can be found somewhere in the Lamar Valley doing what he does best: observing the wolves. I can't contain myself with the mere thought that I might get to meet and spend time with this man.
My heart is pounding as we approach the Lamar Valley.  The dawn is breaking, the sky is breathtaking and our excitement palpable. As we come around a corner, all of us are somewhat shocked at the dozens of cars already there and the number of people already set up with their scopes ready to start their daily observations. They are known as the Wolf Watchers.
Rick and I had spoken the night before and he said to approach people with radios who would help me find him.  The radio people are part of a hard-core group of wolf watchers who show up either every day or every chance they get, including people who come to Yellowstone to watch the wolves every summer, with their scopes and their passion for and love of the wolves. They use their own radios to communicate with each other about locations and activities of the various wolf packs throughout the park ever since the US Park Service stopped broadcasting wolves' locations. I approach a man with a radio hanging off his belt and ask him if he knows Rick. Of course he does and radios Rick to inform him of my location. While I wait, the magic begins to happen. Jim invites us to have a look in his scope. He informs us that this is a great day to be here because there was a kill the night before we arrived and there is a grizzly "sitting on a bison" and isn't moving to make sure the wolves don't move in.  I can barely remember putting my eyes to the scope, but I did it and I will never forget those moments – not ever. In my sight is the large grizzly, plopped right on top of the bison and several black wolves circling him, taunting him, trying to sneak in to share in his bounty. The bear is clearly not concerned and sits calmly seemingly laughing at their folly.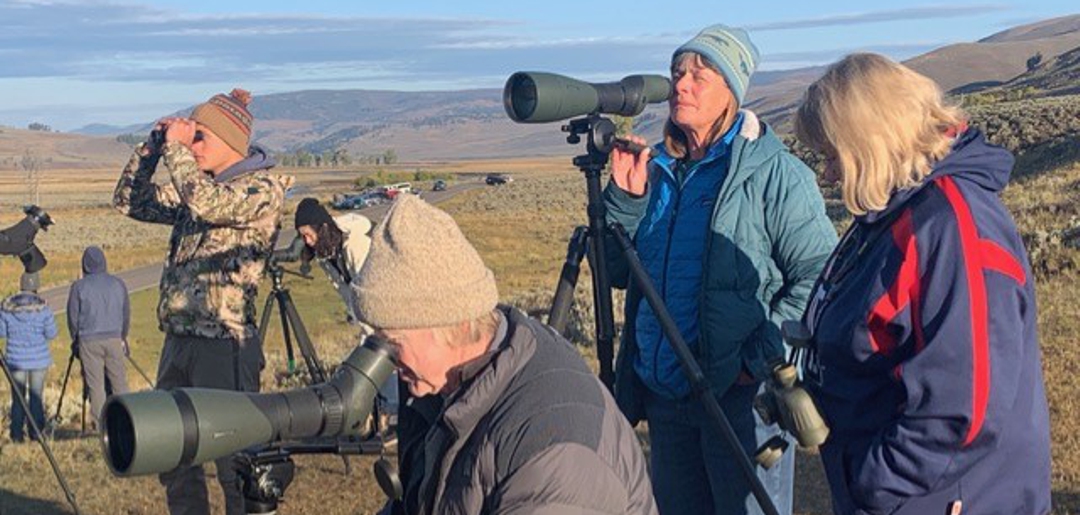 A short time later I connect with Rick who invites us to join him atop a knoll where he has set up his VERY strong Swarovski scope. The magic continues. Rick has a quiet, gentle and yet strong way about him. He explains to us which wolves we are seeing through the scope, how many wolves are in the pack and what the activity has been in the Lamar Valley these past few days. When other people climb the hill, Rick makes sure to invite anyone without a scope to come and have a look. He, and the other wolf watchers, are more than happy to share their scopes and their stories with the dozens of people who stop with the hopes of experiencing the wolves. It is something I have never seen and am still trying to process. Rick, and some of the other watchers, know the wolves by sight. They know the numbers assigned to the wolves by the park service and because of their passionate commitment to and connection with the wolves, they are eager to engage and hopefully educate those who care enough to stop. I stand in awe.
We stayed there observing and listening and learning from Rick and others for almost 3 hours. We saw more grizzlies, more wolves, bison, pronghorn and a bald eagle during our time there and we only left because the watchers were going home for a bit, as most of them return just before dusk to start their observations all over again. On our car ride home, we talked about the phenomenon of the wolf watchers. They are not paid, they are not, for the most part, professionally trained and yet they show up day after day, week after week, and year after year to observe, educate and celebrate the presence of these wild creatures. They know when one of them is injured or missing. They know their wolves and their enthusiasm and commitment are contagious. They are a different breed, they are part of their own pack and we all felt honored to have spent time with them.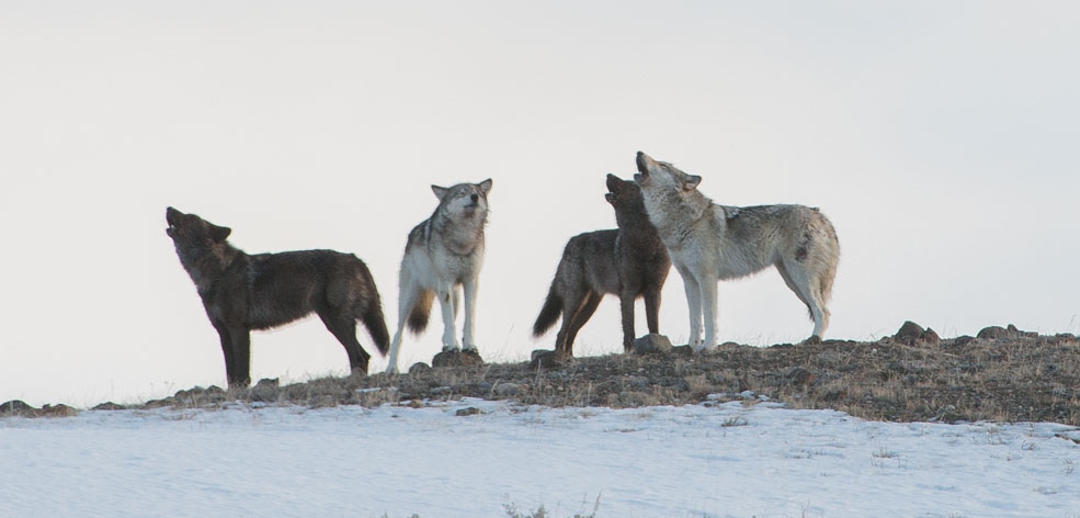 Two days later we returned, eager, excited and ready to observe the day's wolves coming and going. We are not disappointed. That day we saw 12-13 wolves, three grizzly bears and a pack of coyotes howling from another hill. And we stood at Rick's side once again – listening, learning, enjoying. At one point, I stopped and said "Rick – are they howling?" Once again, the man who knows wolves more than any other human on the planet, politely asked the crowd to please be quiet and to listen. The wolves were howling! Rick instructed me to look in his scope to see the wolf who started the howling and then moved the scope so I could observe the others who were answering in return. Time stood still and I realized that yet another one of my dreams had come true. I was experiencing the wolves. Once again, with the temperature hovering at about 34 degrees, my companions and I stayed for the duration, soaking up every single second of our second encounter with the wolf watchers, the wolves and their co-inhabitants of the Lamar Valley.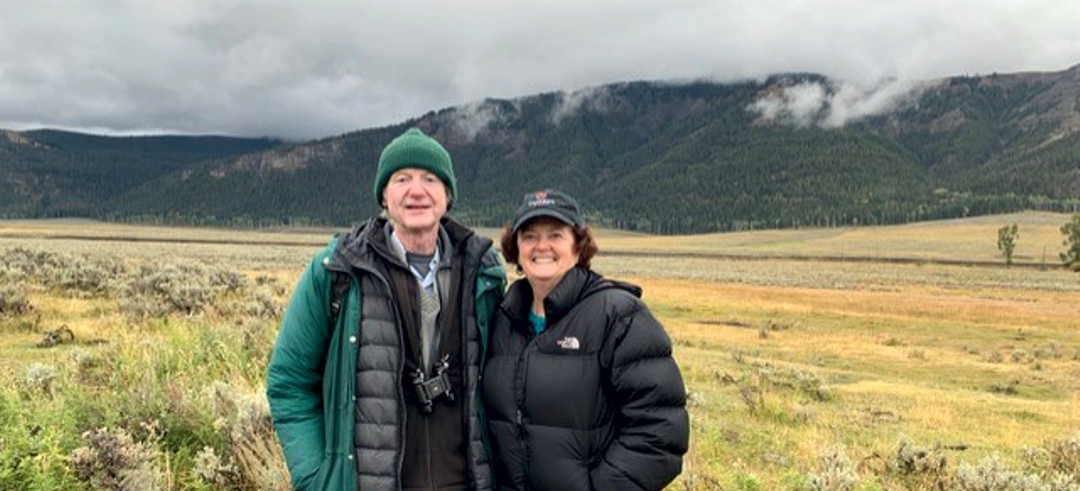 The Reflection
There is no other group of people, that I am aware of, who compare to the Wolf Watchers. They come from all walks of life, they make great sacrifices in some cases to show up every day to record what they see, they care deeply and passionately about the survival of these amazing creatures, They eagerly educate the thousands of visitors who stop by and ask for a peek in their scopes – all with the hopes of spreading the word about the importance of wolves to our ecosystem and, in turn, to the planet. Needless to say, at the very heart of this group is Rick McIntyre. He is the unspoken head of the Wolf Watchers pack and now I understand why. 
The Conclusion
I don't think two days of observing the wolves qualifies me as an official Wolf Watcher. It is a title that is earned over time. What I do know is that I am now more connected to wolves and the Wolf Watchers than I was. I know that their survival is important on so many levels and that I, too, want to do my part in raising awareness about the plight of the wolves and work for their protection. You will be hearing more about wolves in the weeks and months to come. Rick McIntyre is in my scope and I look forward to interviewing him and staying connected in meaningful and intentional ways. Stay tuned.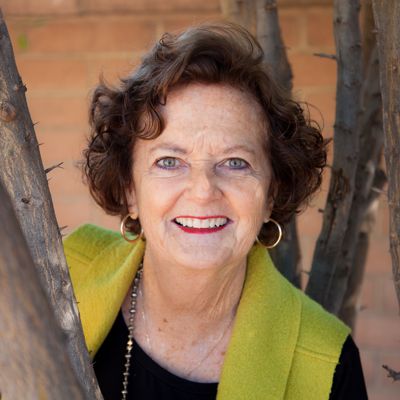 From about the age of five, Gina has been on the path of being a disruptor for good. A dreamer at heart, Gina is madly and passionately in love with this great planet of ours and is tireless in her efforts to preserve it.