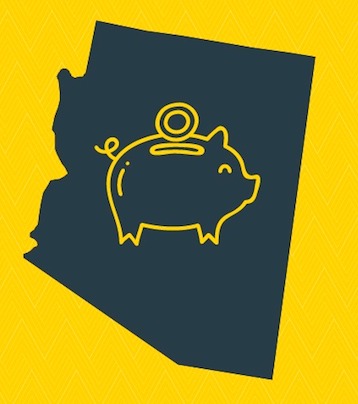 April 1st kicks off Community Banking Month! Given the plethora of local credit unions and local banks that can be spotted in cities and towns around Arizona, it came as a surprise to me that currently only 7% of Arizona's total deposits are in Arizona-based financial institutions. The good news is there's an organized, broad-based movement sweeping the country to change that and get people to move their money.
For the month of April, the Independent Community Bankers of America® (ICBA) and the nation's more than 6,000 community banks will recognize ICBA Community Banking Month – a month dedicated to celebrating the longstanding tradition of local hometown community banking. Throughout the month, ICBA, partnering with great institutions and organizations like Local First Arizona and Vantage West Credit Union will encourage consumers, entrepreneurs, farmers and ranchers to learn more about local financial institutions, their role in building stronger communities and the quality products and services that they provide – all with the relationship banking experience that customers can expect from a local financial institution. And I say LET'S DO IT!
But why? The reasons are so solid and make sense on every level. But before I make some compelling reasons as to why to shift your money, I invite you to think about and answer these three questions:
Wouldn't you rather build wealth locally instead of exporting it to an out of state financial institution over which you have no control? (And I mean NO control!)
Wouldn't you rather expand opportunities for local entrepreneurs and create more local jobs? Jobs that employ us, our family members, our friends? Is there any downside to this whatsoever?
Wouldn't you rather keep decision-making power in your community? Why give your money to absentee-owned corporations which gives them unaccountable power over you and your community? Perish the thought, right?
In doing some research, I came across this great article written by the Institute for Local Self-Reliance (ILSR) which makes the business case for moving our money. I liked it because I agree with it but more importantly, because I know that creating a shift is a win/win when it comes to creating sustainable and socially just communities.
Here is what they had to say with a few editorial comments from Mrs. Green inserted throughout:
1. Get the Same Services at Lower Cost
Most locally owned financial institutions offer the same array of services, from online bill paying to debit and credit cards, at much lower cost than big banks. Average fees at small banks and credit unions are substantially lower than at big banks, according to national data. Studies show that smaller, local financial institutions also offer, on average, better interest rates on savings and better terms on credit cards and other loans.
2. Put Your Money to Work Growing Your Local Economy
Small businesses, which create the majority of new jobs, depend heavily on small, local financial institutions for financing. Although small and mid-sized financial institutions control less than one-quarter of all bank assets, they account for more than half of all small business lending. Meanwhile, the largest 20 banks, which now control 57% of all bank assets, devote only 18% of their commercial loan portfolios to small business.
Mrs. Green's Two Cents: Read and re-read: the largest banks devote only 18% of their commercial loan portfolios to small business! We are the backbone of this country and go largely unrecognized by the big banks. Let's change that by moving our money. We love how Vantage West breaks down the impact on where our money goes in Arizona.
3. Keep Decision-Making Local
At local financial institutions, loan approvals and other key decisions are made by people who live in the community, have face-to-face relationships with their customers, and understand local needs. Because of this personal knowledge, local financial institutions are often able to approve small business and other loans that other financial institutions might reject. In the case of credit unions, control ultimately rests with the customers, who are also member-owners.
Mrs. Green's Two Cents: All you have to do to verify if I am out and about is to look at the Mrs. Green's World Facebook page. I am on the scene – trust me. Who do I see at almost every local event I attend? Bernie and Stephanie from Vantage West! Whether it's at a Local First Mixer or an Earth Month Event or the State of the City annual luncheon, chances are those two, or other Vantage West team members, are on the scene. They care, they support, they show up and they give back!
4. Back Institutions that Share a Commitment to Your Community
The fortunes of local banks and credit unions are intimately tied to the fortunes of their local communities. The more the community prospers, the more the local financial institutions benefits. This is why many local banks and credit unions are involved in their communities. Big banks, in contrast, are not tethered to the places where they operate. Indeed, they often use a community's deposits to make investments in other regions or on Wall Street.
Mrs. Green's Two Cents: Next time you are at a community event to benefit a local nonprofit, check out who is sponsoring, who is making it happen, who is funding it? Chances are it's a local financial institution or a different local business. I always ask myself, where would we be without them? And, yes, I even include their support of our University's athletic programs. I admit that I love seeing the Vantage West Credit Union and other local financial institutions proudly displaying their logos at the University of Arizona's Basketball, Football, Softball and other games, because this is Wildcat Country! Also noteworthy, is that many of the student athletes are our future leaders. So support for collegiate athletics also helps these students fulfill their educational commitments.
5. Support Productive Investment
The primary activity of almost all local financial institutions is to turn deposits into loans and other productive investments. Meanwhile, big banks devote many of their resources to speculative ventures that may generate big profits for the bank but provide little economic or social value for the rest of us and can even potentially put the entire financial system at risk if they go bad.
Mrs. Green's Two Cents: I stand with Local First Arizona and invite you to do the same, because I believe creating awareness about Community Banking Month will help create the change I wish to see in the world.
Finally, and personally: When I saw this Vantage West Credit Union commercial, Where Does Your Money Go?, I did the happy dance – in public and in private. Sorry – no video of that dance is available at this time! The video is edgy, thought-provoking, it tells the story about where your money goes, AND it affirms what I believe –  my friends at Vantage West care deeply about me, my community and about spreading the good, green word. Enjoy it!
To find out about community banking events and celebrations in Arizona happening in April, check out the Local First website.
About Vantage West: Vantage West, southern Arizona's largest credit union, is on a mission to ignite collaborative relationships with members and the communities they serve, so all can thrive together. They offer consumer and business banking services. Vantage West is federally insured by NCUA.