I will try to capture and convey the magic – and do it justice – from my recent visit to The Big Green Apple. Here are five highlights. The magic just didn't stop!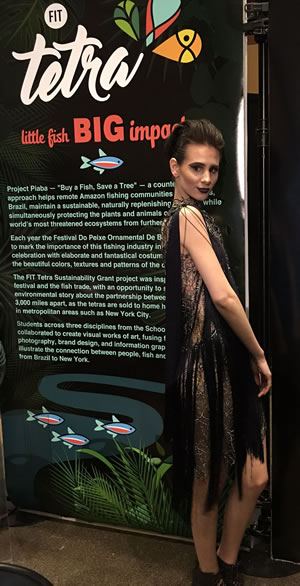 On the Fashion Institute of Technology's 10th annual Sustainable & Design Conference in New York City. I can't do it justice. I can only say that I sat through every session learning about Ethics and Sustainable Design, Sustainable Fashion, (Listen to my interview with show guest Sass Brown) which knocked lots of socks off, and I hung on to every word spoken by featured speaker, Dr. Donald Lee, President, International Committee for October 17 (UN Day for the Eradication of Poverty). Did you know there was such a day let alone someone whose title is President? It's a day dedicated to the eradication of world poverty. Dr. Lee spoke about Global Goals for a Sustainable World. The United Nations actually has a set of 17 global goals that emphasize the balance and behavior needed for world economic, social and environmental development. Not surprisingly Dr. Lee said: "A key factor undermining these global goals is the threat of universal climate change. What is needed is transformative change to address the challenge of achieving sustainable development." I am not even coming close to doing his powerful presentation justice but Dr. Lee touched on a variety of global systemic issues, noting that the definition of extreme poverty in the world is existing on $1.90 a day. How do we get from here to a world that works for everyone?  Or even mostly everyone?
I left the day filled with both sadness and hope. Sadness because of the millions of people living in extreme poverty and wondering how much I contribute to their plight every time I buy a piece of clothing that I KNOW was not sourced, sewn, packaged or shipped sustainably. It haunts me and I vow to do better – like thrifting, buying less and using lots of infinity scarves! I feel hopeful because of what the faculty and students are doing at F.I.T. to help create a fashion revolution. They are on it, they care and they are taking action. And I am going to keep on top of this revolution in every way possible.
On meeting with Marc Yaggi, Executive Director, Waterkeeper Alliance. How I wish I could just share with you the view from their office at 180 Maiden Lane facing the South Street Seaport. Breathtaking and beyond with views of the bustling port, the Brooklyn Bridge and just an overall beehive of water activity. Waterkeeper Alliance is the largest and fastest growing nonprofit focused solely on clean water – swimmable, drinkable and fishable water. You know – like how water used to be and is supposed to be? They are an international force with over 280 Waterkeeper organizations in 34 countries protecting waterways around the world – for you and for me and for our children and our grandchildren. Marc is as down to earth and as passionate as human beings can be and shared with me some amazing stories about the work they are doing.
Most noteworthy? BRACE YOURSELF!!! Waterkeeper Alliance and 55 Waterkeeper member organizations and affiliates across the country are urging President Obama to oppose an attempt by Congress to use toxic chemical safety reform legislation TO PROTECT MONSANTO, one of the world's largest and mostprofitable polluters, from liability for billions of dollars of damages caused by toxic polychlorinated biphenyls (PCBs). Yup – a bill put forth by our very own US Congress protecting Monsanto! Protect Monsanto? Say what?
The quick back story: The Toxic Substances Control Act (TSCA), passed in 1976, singled out Monsanto's PCBs for an explicit ban because of the human health dangers and massive damage PCBs had already caused across the country. Monsanto was, in essence, the SOLE U.S. manufacturer of PCBs, producing and distributing roughly 1.4 billion pounds between 1930 until 1977. The company continued production for roughly a decade after learning that these persistent, toxic chemicals were contaminating natural resources and harming people around the world.Marc's words of wisdom: "Monsanto's PCBs have contaminated more than 80,000 miles of streams and rivers and 2.9 million acres of lakes and reservoirs in the United States alone. Rather than be shielded by Congress, they must be held accountable for the damage inflicted on people and natural resources across the country." I cannot say enough good things about who Marc Yaggi is and about the global team he is leading to help protect our waterways. And I can't wait to interview him after he returns from a very big trip to visit with His Holiness The Gyalwang Drukpa, a Himalayan Buddhist Leader, who has joined the Waterkeeper Alliance to create a network of waterkeepers working out of his monasteries in Nepal, Bhutan and India. Oh the places we'll go.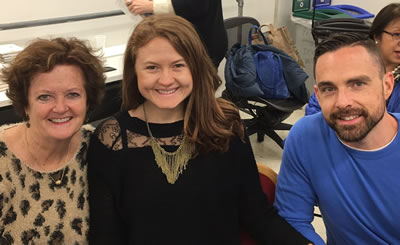 On my visit to the United Nations to hear Emmanuel Dagher speak. This one was up close and personal and lots of tears were shed. First of all, I was IN the United Nations with my daughter Emily and her husband Ben. How many people in the world actually get to go in the UN? And then we heard Emmanuel speak about living for 7 years, the only boy, in a convent in Lebanon from the time he was three years old during the Lebanese Civil War. He briefly shared how that experience – living in a small room with a concrete floor and one single blanket, no running hot water and very little electricity, and being fed a diet of pita bread and water because that's all there was – not surprisingly shaped his life forever. And here he was talking to us about hope, about peace on earth, about looking beyond the faces of people we might think we hate to try to see who they really are and about being the space holders for a world that we all want to live in. To be honest, I don't even remember everything he said. What I DO remember is feeling inspired, like I want to be a person who is slower to judge, a person who really does want to work for peace on earth and social justice, and a person who isn't afraid to take a stand for the things I believe will help make our world a better, stronger, safer and sustainable one.
On spending time with amazing people like Jane Mahoney (F.I.T), Denise Scotto and Carey Davidson (Tournesol) and guests on the MGW show. Stay tuned for more stories about these incredible human beings and big green dot connectors and about their impact on MGW and on me.  There were more amazing experiences and meetings in New York City, a city I truly love, that fed my mind, body and spirit. But those stories and experiences will have to wait so as to keep this newsletter from becoming a short book!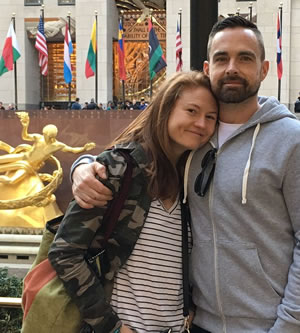 p.s. On spending an entire week in NYC with my new son-in-law, Ben, and daughter, Emily – the biggest blessings of all. And some of the happiest memories in my whole entire life. My thanks to them for who they are and for the joy and laughter they bring to all those whose lives they touch. Food for my soul indeed.