Mrs. Green's World is a platform that not only educates people about the health of the planet, but also encourages all of us to consider various options to create healthy, sustainable communities. We are proud to partner with Tucson Medical Center, which has been Tucson's locally governed nonprofit regional hospital for more than 70 years. Because TMC is committed to empowering patients to be active partners in their care and has a robust wellness outreach program, we are sharing TMC's message. To learn more, please listen to our special podcast series, sponsored by Tucson Medical Center.


Whether you're taking the dog out for a walk or just getting out for a run yourself it can be hard this time of year to get outside when it's light out. If you don't have time during daylight hours to get out, stretch your limbs and fill your lungs, make sure you follow these safety practices when exercising in the dark:
Plan your route and tell someone where you are going and when you should be back. Avoid poorly lit and overgrown streets and trails.
When planning your route make sure to note where there are open businesses that you can stop at in case of emergency.
Don't be predictable. Make sure you change up your route!
Bust out the neon! Wear bright and reflective clothing so drivers can see you.
Leave the tunes at home. Be aware of your surroundings don't wear earbuds or headphones.
Bring a cell phone and identification. Or at a minimum, have ID and emergency medical information on a tag or on a card.
Rely on inner sparkle–don't wear jewelry or carry money.
Use a headlamp, flashlight or clip-on bike light so drivers can see you.
Take pepper spray and a whistle in case you do encounter someone or something threatening.
Don't run alone. Taking the dogs out for a run means we're all getting exercise. If you don't have a canine friend to accompany you, see if a friend is up for being an exercise buddy.
If you must, make friends with a treadmill for a couple of months. I know, it's not the same as getting outside, but if it keeps your exercise routine on track, it's helping your physical and mental health. I struggle with this, as it can seem boring sometimes, but if I don't have a run buddy on a particular day, a gym treadmill is the next best thing. Skipping a workout never feels good.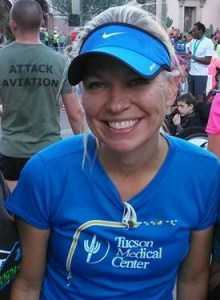 Amy Ramsey is manager of TMC Employee Wellness Engagement, a mom, a Boston marathon runner, hiker and all around fitness guru.