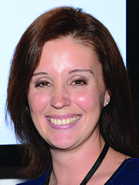 Imagine an international company whose philosophy is all about what is the right thing to do as a human being. And further imagine that this corporate philosophy is something they instill in the minds of over 69,000 employees worldwide. I have it on the best authority that the founder of Kyocera, Dr. Kazuo Inamori, is the embodiment of that philosophy as evidenced by Kyocera's commitment to the production of award winning eco-friendly products and their toner recycling program. Join us to learn about these important practices and to hear about what this VP of Corporate Marketing at Kyocera's Document Solutions, Danielle Wolowitz, does to insure the corporate culture is in alignment with the philosophy of doing the right thing as a human being.
INSIGHTS
What is the right thing to do as a human being? What if this question was intentionally asked, by each of us, in our daily lives? What if the operation of your business was based on this question? This is the question that the founder (Dr. Kazuo Inamori) of Kyocera asked and it has continued to lead the international enterprise daily.
"Kyocera was green before it was cool to be green" – the core of everything Kyocera does is to insure that their products have as little an impact on the planet as possible.
What is planned obsolescence? Learn Kyocera's perspective on planned obsolescence as a strategy by listening to this podcast.
Addressing the issue of recycling toner cartridges – because of the way Kyocera manufactures it's products it can be recycled in blue bins where mixed plastics are taken. Kyocera ECO footPRINT Toner Recycling Program is a bell ringer for sure!
Kyocera: Help Us Copy This Across the Country – learn about Close The Loop and the park bench campaign, that Kyocera is bringing to it's American headquarter community, during this podcast.
Kyocera's core values inspired them to form a voluntary partnership with the Environmental Protection Agency (EPA) – striving everyday to be the leader in business…inspiring all of us to do the right thing as human beings.
Danielle's mentors have instilled in her the Kyocera core belief system…and it inspires her leadership today. Danielle shares, in this podcast, how the leadership practices of Kyocera speak to the core values of the organization on a daily basis.
Kyocera's solar division is creating and participating in wonderful projects and continues to succeed on multiple levels – learn more here
Is this good or just good enough? We should all be striving to do what is good…what is right. Kyocera continues to role model, on a global scale, how you can be successful in business by doing what is right.
GET INFORMED!
GET ACTIVE!