Well it's that time of the year again. The temperature is warming up, the flowers are blooming, and our thoughts turn to open windows and sweeping out the winter gloom.
Spring cleaning is an idea that's been around for a long time but these days it's important to be conscious of the choices we make in cleaning products and in how we choose to clean and freshen our houses. The potential toxins in our homes are myriad – from the coatings on our walls, to the flame retardants on our furniture, but there are many toxins we can choose to cut out.
Start with the basics
There is very little that good, old fashioned vinegar and baking soda can't clean but don't forget about the antibacterial and cleaning properties of borax. Borax can have dozens of uses around the home including as a laundry booster and water softener as well as using it in your kitchen to disinfect surfaces. It's a great all-purpose product that's toxin-free.
Go Old School
Your grandma didn't need a plastic Swiffer that uses single use sweeper sheets for mopping floors. She used her wooden-handled dust mop with the washable head that can be used again and again, and you can too. You can use old towels and linens as dusting and cleaning rags – which can also be used again and again. If you must use paper towels, stock up on paper towels that are chlorine-free. The chlorine used to bleach paper products is a toxic chemical that releases carcinogenic dioxins during manufacturing. Choosing to use chlorine-free paper towels helps to keep our collective home – the planet we share – cleaner.
But not THAT Old School
Many of the household cleaners our mothers and grandmothers used aren't just bad for you, your children, and your pets, but they're also bad for the environment. There are many non-toxic alternative cleaning products out there if you'd rather not resort to baking soda and elbow grease. That said, if you decide to replace the bottles under your sink with non-toxic, environmentally friendly products – don't just dump the old ones down the sink. Many cities and counties have hazardous waste collection options. Check out your local municipal sanitation or public works department to find out how to dispose of old cleaning products properly. To find non-toxic replacements for your old products you can check out the Environmental Working Group's (EWG) Healthy Cleaning list .
Forget the "Fragrance"
Avoid products made with "fragrance," a catchall term that usually means phthalates, which are hormone-disrupting plasticizers. Opt instead for essential oil fragrances if you're wanting to scent your home. As a bonus, adding a few drops of essential oil to a spray bottle filled with water and a drop or two of rubbing alcohol is usually a very cost-effective way to freshen your home.
Don't Sweat It
Once we start to become aware of all the toxic chemicals that can be found in our homes – working to create a more non-toxic space can feel overwhelming. You might think "Where do I start?" Just remember that it's a process and it doesn't have to happen all at once. You can also make other choices to limit you and your family's exposure to toxins by doing things like taking your street shoes off when you walk in the door to your home and washing your hands frequently and especially before meals to avoid ingesting anything on your hands.
Creating a home the uses fewer toxins is not only healthier but can be cheaper too – and that's an idea we can all get behind. To learn more about the EWG and their work to create a less toxic world, listen to our podcast: The Whole Truth and Nothing but the Truth.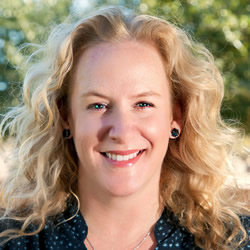 Meredith, a former professional in the software industry, has come to the Mrs. Green's World team through an unlikely journey that took her through the world of non-profit management and on to becoming a part of MGW. Helping people understand climate change and what we can do about it – is very near and dear to her heart. She lives in Tucson with her family and too many pets.