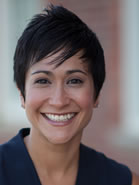 Rachel Gutter, Senior Vice President of Knowledge, U.S. Green Building Council
From everything I could read about Rachel, she is a true green rock star. In addition to being the VP of Knowledge at the USGBC, she is the Director of the Center for Green Schools. Rachel's dynamic leadership has provided a powerful voice for the green schools movement, convening international corporations, globally recognized institutions, and government entities around a singular purpose: to put every student in a green school within this generation. At USGBC itself, she is recognized as a transformative force, bringing a burst of creativity and strategic thinking to each team she works with, uplifting and energizing teams to reach their goals. Ready for this? Under her direction, the Center for Green schools has published over 1,000 pages of technical guides and original research and deployed more than half a million volunteers who have contributed $46 million in donated time to transform schools across the world. And that's not all so please join me for what I know will be an exciting, powerful and informative interview with a thought leader and game changer building a better future for all of us. Thousands of hours of premier sustainability content. This show made possible due to the generous support of the Chapman Automotive Group.
My FIRST P.S. EVER : Over 250 media outlets have sought Rachel's expertise, including the New York Times, the Washington Post, NPR, Parenting Magazine, FOX News, and CNN. And now Mrs. Green's World.