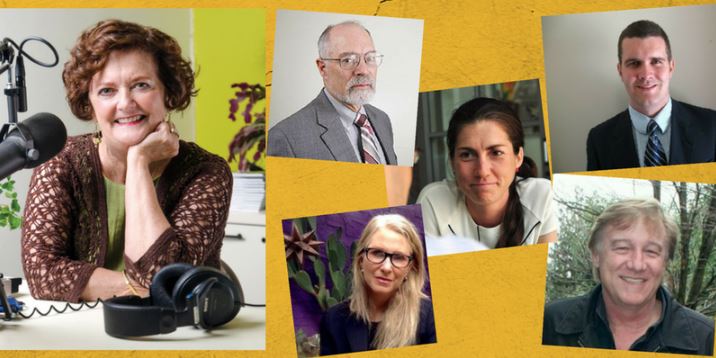 How do we find effective environmental solutions? How can we encourage greater collaboration toward environmental progress?
Sat, June 24, 2017
12:30 PM – 2:00 PM MST
University of Arizona
Environment and Natural Resources 2 (ENR2)
1064 E. Lowell Street
Tucson, AZ 85721
Join us for lunch and conversation at the University of Arizona on Saturday, June 24. Environmental educator and popular host of the podcast and radio program "Mrs. Green's World," Gina Murphy-Darling, will lead a panel discussion of locally known voices from academia, grassroots organizations, and local governments. This is the final plenary session of the AESS 2017 conference and is open to everyone interested in collaboration and solutions.
Jim Buizer: University of Arizona, convener
Gina Murphy-Darling: Mrs. Green's World, Moderator
Courtney Crosson: University of Arizona, School of Architecture, panelist
John "Skip" Laitner: Energy and Resource Economist, panelist
Michael Peel: Local First Arizona, panelist
Julie Robinson: Pima County Sustainability Office, panelist
Lunch will be available starting at 12:30pm and the plenary will begin at 1:00pm.