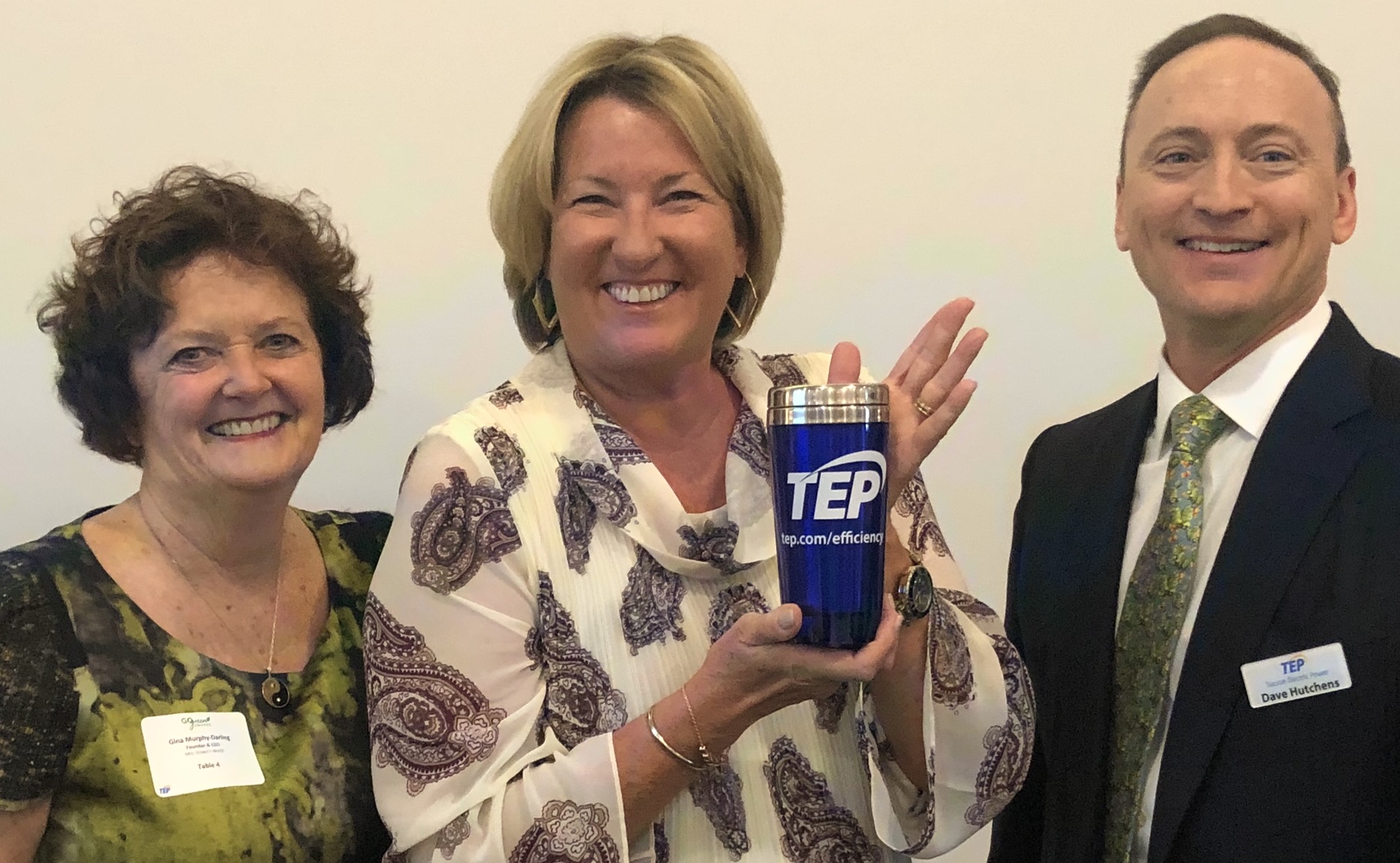 One of my favorite things to do every year is to co-host the Go Green Awards with Dave Hutchens, the CEO of Tucson Electric Power Company. The event, hosted and sponsored by TEP, is fun for lots of reasons including the fun banter that goes on between Dave and I.  I also admire the "team work makes the dream work" involvement of so many TEP staff members who make the event so successful. From the decorations to the celebratory, positive energy in the room, to the exceptional food and great company, a good time is always had by all.
What are the Go Green Awards?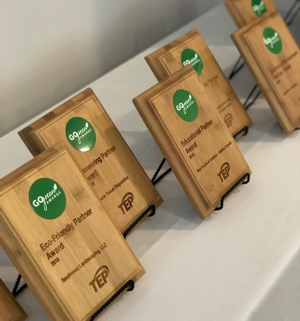 So what's all the hoopla about that makes me not only enjoy but appreciate the efforts on the part of so many TEP staff? Read on. The Go Green Awards event is sponsored by TEP to recognize their partners for their sustainability efforts to conserve and preserve energy, natural resources including water, air, wildlife, and the environment, as well as their efforts to improve the quality of life in our community. In other words, a Mrs. Green dream. I get to spend an afternoon recognizing and celebrating local businesses, organizations and individuals for their outstanding efforts in each of the areas outlined above. The TEP staff look for forward-thinking partners for their creative and effective approaches to promote greater sustainability and then honor them for their efforts! And who does not like to be recognized for doing the good thing, the right thing for our community and, in turn, for the planet? I find myself wanting to do the happy dance each year when I read who is getting recognized and for what.
And the winners are….

I thought it blog worthy to share this year's TEP Go Green Award winners for lots of reasons including my strongly held belief that we need to spread good news every day in every way. People are starving for it. And I also believe the event is one for which TEP deserves a big high five. They are a utility company, after all, and yet make quite an effort to celebrate energy savings on the part of many.
So who and what did TEP celebrate this year? I invite you to see for yourself and learn about some fun, creative and impactful things happening in our community that are beneficial to all of us. I want you to know about them and celebrate their accomplishments along with me because it's news worth sharing. Enjoy and hopefully appreciate, or at the very least, indulge me for my editorial comments. I can't help myself.
Collaborative Partner Award: The Arizona-Sonora Desert Museum was recognized for its ongoing commitment to clean, renewable and eco-friendly energy through its installation of a 10-kilowatt solar parking shade structure for which TEP donated 42 solar panels and three inverters. The Desert Museum also developed a Solar Energy Education Center and exhibit in partnership with TEP to educate visitors.
My two cents: I am a regular visitor to the ASDM and greatly appreciate their efforts – especially when the temperature is 110 degrees!
Eco-Friendly Partner Award

:  Southwest Lambscaping LLC was recognized for providing herds of sheep to manage weed growth at TEP community-scale solar arrays. The use of Southwest Lambscaping's sheep is an eco-friendly arrangement that eliminates the need for using herbicides or gas or electrical-powered equipment for weed control.
My two cents:  How could you NOT love a company named Southwest Lampscaping? Stay tuned for an MGW video because I have to see this for myself!
Pioneering Partner Award:  Roche Tissue Diagnostics received this award for committing to clean energy with its purchase of 14 million kilowatt-hours of renewable solar energy through the TEP GoSolar Shares program. The program allows residents and businesses to purchase "shares" of solar energy from TEP's local community-scale solar arrays. Roche plans to eventually meet all of its energy needs with renewable energy, reducing carbon dioxide emissions by approximately 15,000 tons.
My two cents: Pace of the leader, pace of the team. Roche Tissue Diagnostics is leading their team in supporting a cleaner, healthier community.
Educational Partner Award: The Boy Scouts Catalina Council was recognized for encouraging its troops to pursue and earn an Energy Merit Badge, which involves learning about forms of energy, the transfer of energy as well as energy resources and efficiency. TEP hosted and conducted a clinic to help the scouts earn their badges. During the clinic, the scouts were challenged to construct a Rube Goldberg machine to demonstrate their understanding of the concept of energy transfer. They created three transfers of energy that caused a chain reaction to pop a balloon.
My two cents: Children are the only future we will ever have. I'm proud of TEP for recognizing a group focusing on educating our next generation of citizens.
Community Partner Award: Pima County's Department of Community Development and Neighborhood Conservation was recognized for developing weatherization programs for disadvantaged residents, and then partnering with TEP to make upgrades that improved their energy efficiency and overall comfort of their homes. The department's efforts resulted in higher safety, comfort and energy efficiency for the residents and a reduction in their future energy expenses.
My two cents: This is a gift that keeps on giving for the most vulnerable of populations. There is just no downside.
Business Development Partner Award: Local First Arizona earned this award for its Scale Up program, a six-week workshop developed to help small businesses save water, energy and money through a variety of conservation measures. Collectively, participants in this program are estimated to save nearly $700,000 in electric costs, $55,000 in water costs and $29,000 in gas costs. Some of these savings were gained from retrofitting their lighting with LED bulbs, assisted by TEP's energy experts and contractors.
My two cents: I participated in Scale Up and got to observe the level of engagement, the excitement and enthusiasm and also got to celebrate the immediate results. Local First is changing the landscape of Tucson in a myriad of ways and this is just one of them.
Conservation Partner Award: Civano Nursery of Tucson was recognized for its green waste recycling program, which gives new life to tree trimmings. For the past 15 years, Civano nursery has used tree trimmings cleared away from power line right-of-ways to produce nutrient-rich mulch that the nursery then uses to grow shrubs and trees at its Sahuarita location. These tree trimmings might otherwise end up at the Los Reales Landfill. By recycling this green waste, carbon dioxide emissions from having to transport the trimmings to the landfill are reduced annually by approximately 22,000 pounds, and more than $100,000 is saved from landfill costs.
My two cents: I admire and appreciate everything about Civano Nursery. This is just the tip of the green iceberg in terms of this locally and family owned business's contributions to our community.
Environmental Protection Partner Award: The University of Arizona's (UA) School of Natural Resources and the Environment was honored for its long-standing collaboration with TEP to protect large birds from electrical lines and equipment through the Raptor Protection Program. The TEP-UA partnership to protect birds of prey and preserve the delicate desert ecosystem has spanned more than 20 years. UA wildlife biologists and researchers identify areas of raptor activity and nesting and, based on their recommendations, TEP installs protective equipment to reduce and prevent the number of hawks and owls injured or killed by energized lines.
My two cents: I would never even think about picking a favorite or even my top three favorite recipients for this year's awards but if I was hard-pressed…
Progressive Partner Award: Mayor Jonathan Rothschild was recognized for bringing to Tucson a public bike share system that provides residents and visitors with a fun, healthy and eco-friendly way to navigate the city. Launched in 2017, Tugo Bike Share is a collaborative partnership among Tugo Bike Share, the City of Tucson and Mayor's Office, the Tucson Department of Transportation and many businesses, including TEP as a major sponsor. In Tugo's first year of operation, more than 30,000 trips were taken on these bikes. By replacing driving with bicycling, it is estimated that Tugo users helped reduced CO2 emissions in Tucson by more than 14,000 pounds.
My two cents: this is just one of the many accomplishments in the environmental arena that can be attributed to Jonathan Rothschild during his tenure as Mayor.
Big Picture Partner Award: Raytheon Missile Systems was recognized for its holistic and system-wide approach to sustainability throughout the company's operations. Its efforts include energy conservation, solid waste diversion, use of renewable energy, emissions reduction and other progressive measures. Raytheon's participation in TEP's commercial EasySave program earned the company $150,000 in rebates for energy efficiency measures in two of its new building construction projects.
My two cents: from everything I know about Raytheon, their commitment to sustainable practices in every area of their operations is comprehensive, integrated and impactful.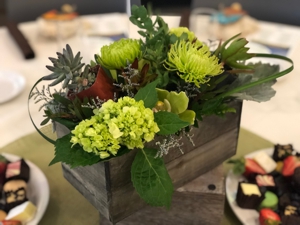 My final thought to share on this event is simple. If you own a company, don't forget to celebrate successes. It matters. If you are married or a parent, don't forget to celebrate successes. It matters. If you are a supervisor at your place of work, don't forget to celebrate successes. It matters. And if any of those celebrations honors or recognizes any actions that have anything at all to do with making our world a greener, healthier, more sustainable place, I honor you!