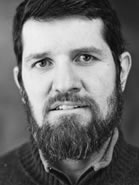 Kai Huschke, Community Environmental Legal Defense Fund, Community Organizer in the Pacific Northwest
That's a long title but Kai and his colleagues are building something big. The CELDF  is building a movement for Community Rights and the Rights of Nature to advance democratic, economic, social and environmental rights and they are doing it by building upward from the grassroots to the state, federal, and international level. Begun as a traditional public interest law firm seeking to protect the environment, CELDF sought to protect communities from projects such an incinerators and waste dumps which cause environmental harm. Along the way, they encountered barriers put in place by both government and corporations. Such barriers included corporate constitutional "rights" and the preemptive authority of state government – both of which are used to override community decision making. Kai will share with us some examples of the ways that CELDF is fighting the good fight – for all of us and for Mother Earth. Another "I cannot wait" show for Mrs. Green. This show made possible due to the generous support of Habitat for Humanity.
CLICK HERE TO LISTEN NOW!