Mrs. Green's World is a platform that not only educates people about the health of the planet but about their own health as well. We are proud to partner with Tucson Medical Center, which has been Tucson's locally governed nonprofit regional hospital for more than 70 years. Because TMC is committed to empowering patients to be active partners in their care and has a robust wellness outreach program, we are sharing TMC's "Health Tip of the Month" to help you maintain your optimal health. To learn more, please listen to our special podcast series, sponsored by Tucson Medical Center.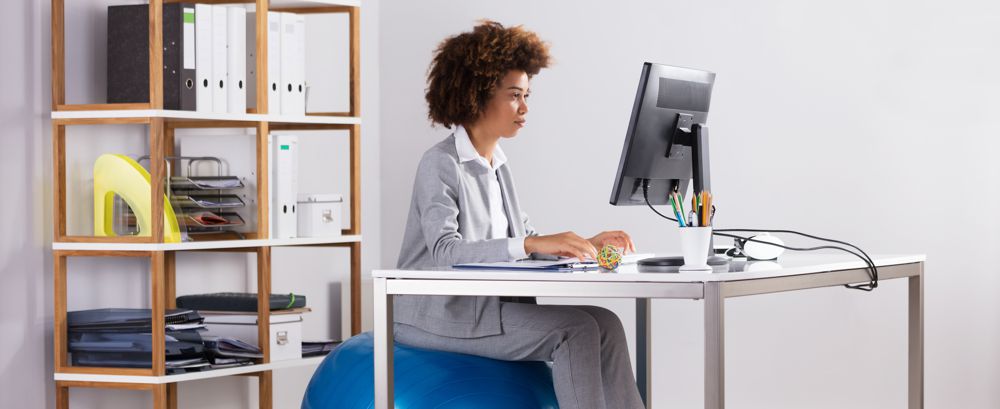 As an office worker you may be bound to a desk and a computer. For most of us this means that we may sit most of the day. You might think staying seated is one of the safest things you could do, but too much sitting can hurt your body in a number of ways.
How sitting too much can hurt your body:
* Increases your risk of heart disease
* Increases your risk of diabetes
* Causes poor circulation in your legs, which could lead to varicose veins or blood clots
* May lead to fatigue and food cravings
* Less activity leads to weight gain
* Weakens your abdominal and gluteal (butt) muscles
* Contributes to other structural problems in the spine and hips
We checked in with Laurie Ledford RD, our very own Nutritionista, for her tips to help us escape the chains of our desks.
What is a desk-bound office worker to do? Here are a few tips to get you out of your chair.
1. Don't rely on an hour or less of exercise to make up for a whole day of sitting. You need to get up and move more often than that to offset the bad effects of sitting.
2. If you have a sit-to-stand desk, alternate positions throughout the day.
3. If you don't have a special desk, stand up whenever you don't need to be touching your keyboard or your desk – e.g., when answering the phone, while reading, while talking with a coworker.
4. Sit on an exercise ball or a stool with no back, so that your core muscles will have to do some work. Always sit with your feet flat on the floor.
5. Hold walking meetings.
6. Drink lots of water (or other unsweetened beverage) throughout the day, so that you will have to get up to relieve yourself of this fluid frequently.
7. Get away from your desk every 30-45 minutes to give your eyes a break and do something active – e.g., pushups against your desk, wall sitting (back against the wall with legs bent at 90 degrees), squats, calf raises, brisk walking, stretches or yoga poses.
8. Keep a resistance band in your office. Use it to perform squats, lunges and upper body exercises during your breaks.
9. Park far away, in a shady spot. This gives you a nice little walk to and from work, plus a cooler car in the afternoon.