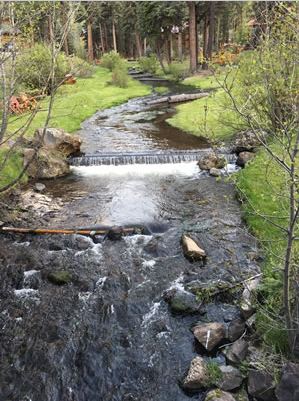 The very good news is that as I sit and write this, I am surrounded by conditions that are close to idyllic. It's a cool and breezy 72 degrees and I am in the White Mountains in a little village called Greer, Arizona. Not only can I hear any number of birds singing, but the sound of the Little Colorado River about 50 feet from my door could put me to sleep – easily! From where I sit, I can see lots of beautiful cabins, tall green pine and aspen trees in abundance and a pond where the fish are "biting," and little kids are following their Moms and Dads around with their fishing poles looking for just the right spot to throw in their lines. As if on call, a Great Blue Heron flies over and lit on the edge of the pond beyond the creek as I am describing the scene. I honestly could not be happier as this place fills my very soul. It nurtures me. It heals and soothes me. It inspires me to keep reading about, speaking about, and writing about my role as Mrs. Green in the world and about why it is important to spend time in nature and why I need to write about my experiences when I do. This place makes everything I do and all that I am about matter.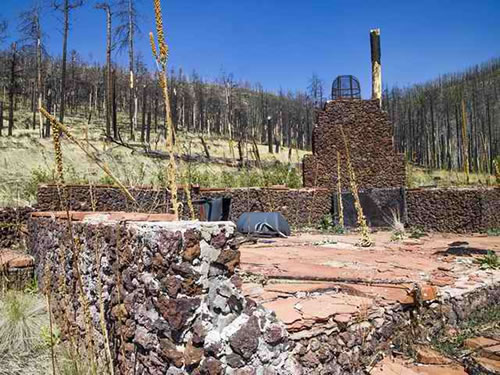 On the other hand, to the east of me I can see the mountain where our "dreams come true" cabin used to be nestled among hundreds of majestic ponderosa pines. There are very few trees standing on the land where the cabin once stood and many of those that are, continue to fall giving the area a somewhat eerie and desolate look. Our cabin was built in 1951 on a beautiful spot at the end of dirt road surrounded by U.S. Forest Service land in Greer, Arizona. Just about five years ago, it was violently destroyed by the ferocious Wallow Fire that took about 540,000 acres of pristine forest before it was finished. The news was devastating and the pain beyond what my husband and my family and I thought we could possibly bear. The hurt still remains but thankfully more and more of the happy memories have come back – helping to bring a bitter sweet smile to our faces and some joy to our hearts. I remember pretty much every bear, elk, deer, raccoon, squirrel and chipmunk that ever visited our spot of heaven. I remember them because when I am in Greer, I am very present. I am aware of the clean air, the sound of the trees rustling through the pine trees and the sound of the squirrels chattering back and forth at each other. I remember because I am in nature and am very much aware of how this place speaks to my spirit.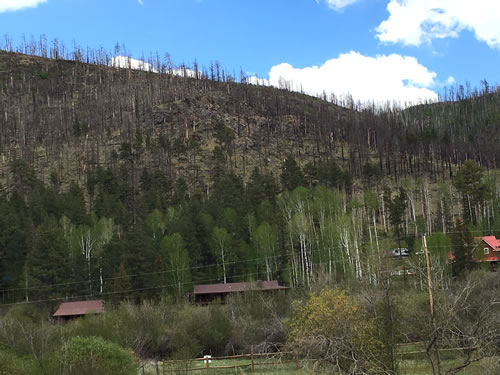 Truth be told, I selfishly share this story because it helps me with the healing. Even after 5 years, the pain remains strong and the loss still felt deeply. But I also share it because no matter how devastating this experience has been, I come back year after year for those very important soul feeds I continue to crave and nature never disappoints. Every time I am here, I spend time thinking about the two campers who caused the fire because they didn't take the extra time to adequately extinguish their campfire at a site many, many miles from where our cabin was, in spite of extreme fire conditions. They weren't bad, horrible monsters. They were two young people who loved the outdoors, loved camping and fishing – all of it. But their carelessness changed the course of many lives forever. And they get to live with their reality forever.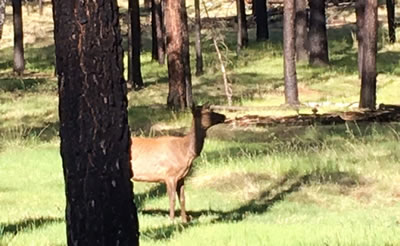 But I didn't write this newsletter just to share my grief again. I wrote to ask you to consider a few things this summer season and actually every season. Get out in nature. It heals, it soothes, it brings joy and peace to your heart. It makes you mindful of how worth preserving this great planet of ours is. It makes you smile and sometimes even laugh. It makes you remember what's important – like spending "gizmo free" time with family and friends – time that can be spent hiking or cooking or playing games or fishing or wildlife observing. Or time that can be spent simply listening, breathing, healing or just being. Spending time in Nature matters and Nature reminds us that so do we.
And if you happen to have a campfire, make sure it's FULLY extinguished before you leave. It really matters.