The First Hive
I am a crunchy, hive-loving, honey-eating adorer of bees. I fundamentally understand that bees and their simple, yet important work are absolutely critical to life on our planet. I even rescue bees drowning in our pool if I can. This side of me is called Bee Lover. But, I'm also protective of my kids. I will remove any unnecessary dangers to prevent foreseeable harm. I'll call this side of me Mama Bear. Even with Mama Bear hovering, I do let my boys fall so they learn how to get up. Mistakes teach us our greatest lessons. Here's one of mine, and it's a doozy.
This spring Bee Lover and Mama Bear clashed, and, spoiler alert, Mama Bear won. In March, a swarm of bees nested in our in-ground sprinkler box, and my then-four-year-old son saw several flying around the area and crawling in and out through a small hole in the lid. Being a curious child, he stomped on the box, agitating the bees. A couple of them stung my son before my husband whisked him into the house, and we anxiously watched him for any allergic reactions. Thankfully, he was fine, save a bruised ego and a big lesson learned. Son to self: Don't stomp on bees. Check.
But we still had a problem. The hive was there, and I was worried that my kids would impulsively decide to see what would happen if they opened the sprinkler box. The vision of a frenetic tornado-like bee swarm filled my mind! Like a Mama Bear, I let my emotions control my actions; I made a call to the first pest control place I found on google, and I explained the situation. They adamantly declared that the hive must be exterminated because of the location. It's too difficult to remove them, they said. They said it would cost $600, and they could be over within an hour. Mama Bear grunted in approval. And when pest control came, and sprayed the hive, and their lifeless little bodies were scooped out and gone, she huffed her satisfaction. But Bee Lover mourned, felt guilty, and reflected for days. Note to self: If this happens again, I will find a different solution. Check.
The Second Hive
Seven months later, Mother Nature gave me a second chance to do the right thing. We discovered our second hive one morning, just after dawn. My sister, Regina, visiting us from Ohio, commented on some moths buzzing around outside her bathroom window during her shower. As we were talking, I peeked in the bathroom; no moths could be seen. But above the shower, now visible in the increasing daylight, were bees – at least a hundred, covering the screen and quietly, calmly hanging out. I then looked out of the window of our family room that faced the same direction. Bees covered the wall of the shed as well, and again, they were calm, quiet, still.
My husband and I carefully walked outside between the house and the shed, careful not to disturb them. We rounded the corner and saw several flying around on the opposite side of the shed. They were flying down through a hole in the shed's metal base, a hole perfect for bees to settle and get to work. That morning, I called a company who said they did bee relocation, a process where a hive of bees or a swarm is collected in an environmentally friendly way and moved to a new location where they can tend to the business of making honey. I explained our situation and that I wanted to safely relocate the hive. Once he found out where the hive was, he clearly stated that unless I wanted to tear up the bottom of the shed, the best bet was to exterminate them. I thanked him for his time and hung up.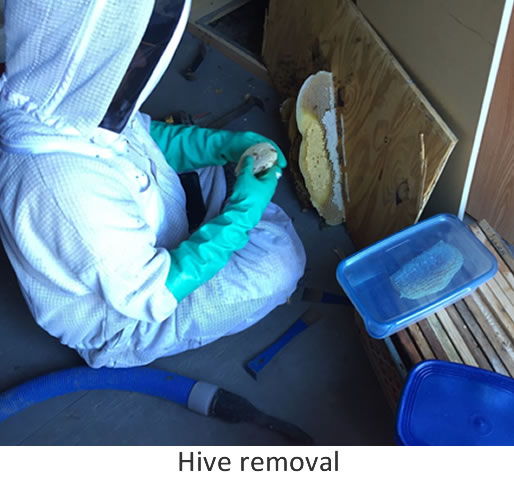 I had to think about this. I knew saving the hive was the right thing to do, but my husband did not want to tear up the floor of the shed, and worried about the cost to fix it. When I arrived at work, I wrote my long-time friend, Kelly, from Mrs. Green's World, and asked her for advice. She immediately put me in contact with Hilary from a local beekeeper in Tucson. Hilary provided a couple different solutions that might work:
Living with them in harmony – Unfortunately, this was not an option for us. With two young and curious boys, we doubted they would stay away, and we frequently use the shed.
Attempting a trap-out – Essentially, we would place a hive box near the area and try to lure them into it. No guarantees it would work, and it could take a while.
Or … being okay with the floor of the shed being removed to relocate them.
So, I googled "environmentally friendly bee removal," and I found one in Phoenix. The owner Dan, came out and assessed the situation. He took thermal imaging to locate the precise location of the hive. He was confident they could remove it, repair the shed, and prevent future bees from returning with some preventative measures. As a bonus, we would keep any honey the hive started making. The price he quoted was fair, and I was embarrassed to learn it cost less than what we had paid to exterminate the first hive in March. Dan assured me that the hive was stable and working, so their behavior would not likely change or become erratic. For a week, we lived in harmony.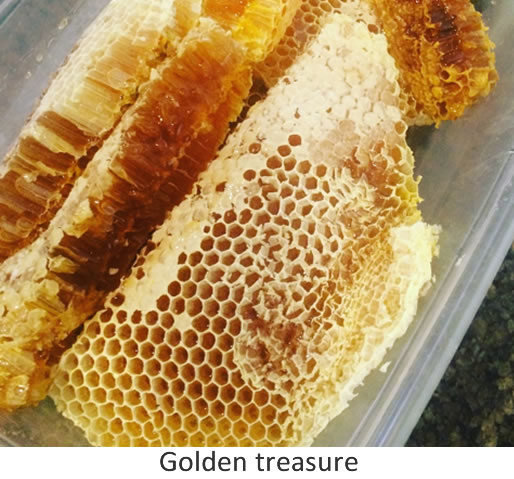 Relocating the hive was not a quick or immediate process. While our first hive was exterminated within minutes, this hive was safely relocated to a hive box in about 3 hours without using any harmful chemicals. Dan repaired the floor, installed preventative measures, and collected the honeycomb. Dan has since shared with me that the hive has settled in well at their apiary off a road called Happy Valley, an appropriate new street for our hive of approximately 6,000 buzzing bees. Bee Lover was thrilled; Mama Bear, humbled, and frankly, feeling like a prize fool.
Teachable Moments
Because we chose to save our second hive, our family had the joy of experiencing the following:
Seeing bees work on building the honeycomb and making honey
Watching my sons' faces light up in amazement when they saw the honeycomb and asked if they could taste it
Teaching my sons the life-cycle of the bees' creation from honeycomb to jar
Extracting our honey using the crush method and eating every last glorious, golden drop
In retrospect, the first hive could have easily been extracted. It was contained in a box. No structures had to be tampered with. You may be thinking but what if they were Africanized bees? Spoiler alert – nearly all bees in Arizona are Africanized, and they produce honey as well. I realize I'm not an expert in the field, but if Dan can remove a hive out of a statue or a wall, and he successfully has, I would bet my 12 ounces of backyard honey he could have saved this one.
I can't undo my decision to exterminate the first hive, but I can learn from my mistake. The first hive taught me to seek all solutions and find the best way. And the second hive? Bee Lover to the World … You'll be rewarded in so many ways when you do.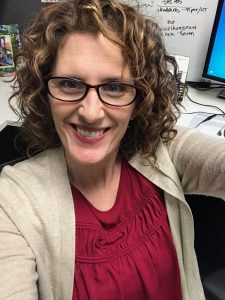 Nicole lives in Phoenix, Arizona with her husband, two boys, and cat. She's an avid supporter of being green, and believes changing behaviors starts with small steps leading to big impacts.