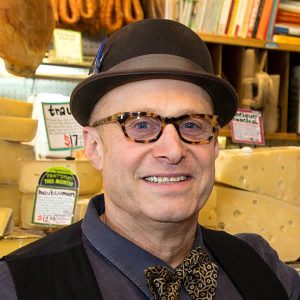 The Zingerman's story is a vital one for our time. It began as a casual conversation in 1978 and blossomed out of intentional leadership and the conscious decision to go deep – not wide. This impactful business has created multiple companies within the Zingerman circle…providing jobs, ownership and numerous opportunities for their local employees. From deli to dairy to bakery to grocery store and beyond – this story is the American dream gone wild, in all of the best ways for the planet. When I heard Paul tell his story at a Social Venture Network conference in San Diego, I was blown away by the story, by Paul's socks and by his promise to send me an entire box of ingredients to make a real "back-east" corned beef sandwich.  (Which he did BTW) This show made possible due to the generous support of Tank's Green Stuff.
SUPPORT THE CREATION OF PODCASTS LIKE THIS ONE: BECOME A MEMBER TODAY!  
INSIGHTS
Zingerman's story starts in the mid-70s with Paul's job working in a restaurant, meeting his future business partner and their dream to provide Ann Arbor, Michigan with a really good delicatessen.
The initial mission? Gather the finest foods from around the world and in the middle of their store will be a delicatessen sandwich shop. They wanted to be unique – they wanted to go for greatness…not size. What was their vision for organizing their team? What did they want the Zingerman name to mean? What did they want their team to understand? Join Paul to hear the story and to hear more about the heart of Zingermans.
Zingermans is a community of ten businesses and in addition they have a shared services business and then they founded a non-profit called Food Gatherers
Great food, great service and great finance are the bottom lines for Zingerman's.
What happens when authority is vested in one's title versus authority given to a leader by those that are on their team? Zingerman's is leading the way – truly. Listen to this podcast to really understand how.
When do you know that you have principles in place? Principles aren't principles until they cost you something – and you still hold true to them.
What is the biggest challenge in front of Zingerman's? You may be surprised by Paul's response to this question.
GET INFORMED!
GET ACTIVE!
Music used in this podcast is copyrighted and licensed through Turtle Island Records/Libby Roderick Music