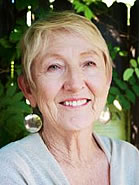 Imagine a company whose core values include making cleaning products that are not at all harmful to your health or the health of the planet IN ANY WAY? Imagine a company that is honest and completely transparent with their customers, vendors and suppliers. Imagine a company that values wisdom and being in service to the community and to the planet and that is also fun! Imagine products that are 100% TOXIN FREE and contain safe, simple ingredients, only 14 in their entire line? And those products are so safe that you can even pronounce every single one of them. Imagine TRUCE! Having a hard time believing all this?  Join me for your Moment of Truce to learn for yourself. It's a pretty exciting experience and I can't wait to share. This show made possible due to the generous support of The Fairfax Companies.
INSIGHTS
What is TRUCE? Cleaning, personal care and pet care products that are non-toxic, use essential oils, child safe, cruelty free, non-GMO and made in the USA!
It all started at a farmer's market…listen to this podcast to hear the rest of this story.
TRUCE Core Values – "it comes from the heart"…she wants people to get harmful chemicals out of their home. Health is their number one value…and then wisdom, traditions, transparency, service and fun are on their list.
When Diann was in a graduate seminar, a professor shared with the class that "the average American householder applies chemicals at a rate of 5 times of agri-business" and she knew that was not right. This spurred her into taking action to bring TRUCE to the market.
What TRUCE really sells is peace of mind – listen to this podcast to hear the funny ways people have used their products.
How did American's get the harmful products that we currently have on the market? Diann shares a bit of the history and the larger climate issues (like products made mostly of water).
You only need the three TRUCE products to clean your entire home! The TRUCE wood cleaner – you can polish the table, polish your shoes, dress the salad and soften your skin…all with the same product.
TRUCE products are 100% child safe – you can have your children help with the household cleaning and not worry about their contact with the product.
Love your fur babies? People spend more money on their pets than they do their children – we do care about our pets! TRUCE products will not harm your pets and they work!
TRUCE is not only about the products – together we can preserve our planet. You vote with the products you buy – vote for your health, the health of your home and the health of our planet.
GET INFORMED!
GET ACTIVE!