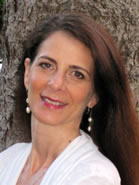 From where I sit, WECAN is doing some of the most important work on the planet today. And that's saying something. This network is a solutions-based, multi-faceted effort established to engage women worldwide to take action as powerful stakeholders in climate change and sustainability solutions. They engage women grassroots activists, Indigenous and business leaders, scientists, policy makers, farmers, academics and culture-shapers in collaboration with the goal of stopping the escalation of climate change and environmental and community degradation, while accelerating the implementation of just climate solutions through women's empowerment, advocacy at international policy forums, trainings, on-the-ground projects, advocacy campaigns, and political, economic, social and environmental action.
This November, WECAN will be launching 'Women Speak: Stories, Case Studies and Solutions From The Frontlines of Climate Change' – an online research database and program designed to share stories of women leading struggles and solutions for climate justice under a variety of themes – from women and water, to food justice, fossil fuel resistance, forest and biodiversity protection, Indigenous communities, movement building, and climate policy and education.
At the hub of this powerful wheel? Our guest: Osprey Orielle Lake, making her second appearance on the MGW network. Join us to learn what they are up to now and why it is of critical importance to all of us. (On a VERY personal note, Osprey is the reason I had the honor of meeting and later interviewing none other than the icon of conservation – Dr. Jane Goodall.) This show made possible due to the generous support of The Fairfax Companies.
INSIGHTS
Osprey's purpose in starting Women's Earth & Climate Action Network, International (WECAN) was to bring women to the forefront (in a very "all hands on deck" feel) to address the global crisis of climate change. The network was activated in 2013, in New York City – bringing together female leaders from around the globe and laying out a collective agenda to combat climate change.
Women are the most negatively impacted by climate change (80% of all climate refugees are women, for example) and are also the source of such important solutions. We cannot get to a more sustainable planet without getting women involved. Osprey outlines a plethera of examples as to how women are negatively impacted by climate change in this podcast.
There is a connection between violence to the Earth and violence toward women – what are the systemic changes that are necessary to truly address climate change and the devastation it brings to our global community?
Mrs. Green has returned from her trip to Ecuador and the Amazon Rainforest – she provides insight and connections between the issues Osprey is bringing forward and her experience in the rainforest. Very dynamic conversation – listen to hear more!
Lifting the voices of grassroots and indigenous women is essential to the mission of combating climate change. Women are often the backbone of indigenous movements around the world – 80% of the biodiversity left on our planet is in the hands of indigenous peoples.
Learn more about the Jungle Mamas program and the Pachamama Alliance that Mrs. Green mentions during the show.
Women Speak is an online research and story telling database for qualitative data – designed to shift the dominant narrative and challenge systems of exploitation and oppression of women from around the world. The goal is to create a very accessible, growing database for everyone to understand and demonstrate why women are so essential to the battle against climate change, and the development of solutions that protect the web of life itself.
There is tremendous power in storytelling. Women are providing incredible, on the ground solutions to water, energy, food, etc – and they are bringing emotional and spiritual intelligence to the forefront as well. If we are not supposed to get emotional about our very life, what are we supposed to get emotional about? Speaking from the heart and breaking down barriers – Women Speak will help move us forward towards a more sustainable, socially just planet for all.
What are Osprey's calls to action and her most pressing issues to address? Listen to this podcast and be inspired to connect with your passion and lead all of us forward – we are in the fight for our lives.
GET INFORMED!
GET ACTIVE!