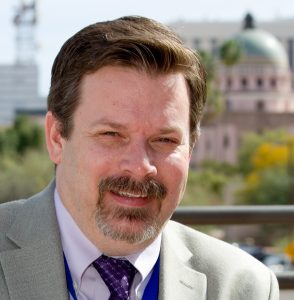 Good planning and intentional conservation efforts have prepared Tucson, Arizona for drought, climate change or shortage on the Colorado River. Tim Thomure knows that the buck stops with him when it comes to fulfilling the City of Tucson Water Department's mission, which is to ensure that their customers receive high quality water and excellent service in a safe, reliable, efficient and environmentally responsible manner – every single day. Join us as we dive a bit deeper with Tim about what it means to be water resilient and touch on a myriad of other topics including diversification of water sources to regional water management partnering to augmentation and remediation. We will also spend some time to bring clarity to a recent issue that Tim's department faced about contaminants in the water. There is not a person in the City of Tucson who knows more about our water supply and quality than Tim Thomure.  He has his eye on the present and the future.  And he knows what's going on in places all over the world when it comes to cutting edge technology that will help Tucson Water be prepared for the future. This show made possible due to the generous support of Tucson Water.
SUPPORT THE CREATION OF PODCASTS LIKE THIS ONE: BECOME A MEMBER TODAY!  
INSIGHTS
Tucson is one of the top water resilient cities in the western United States – how? Tim shares the 8 factors that are at play to accomplish this goal on this podcast.
How has Tucson, Arizona grown in the last few decades and what impact has that growth had on our water use? You might be surprised – learn more on this show.
Water sources are very diversified for the desert southwest – how does this diversification serve the people of the desert and the planet as a whole? Tim shares wonderful insights on this podcast.
Central Arizona Project (CAP) allocation – what is it and what does it mean should severe drought hit this region? Very important information shared on this podcast – join us to learn more.
Did you know that a city can bank or firm water? Great knowledge and important information to understand on this podcast.
Regional and national partnerships are essential to community succeeding and staying resilient.
Ground water is key to our future – keeping it healthy and safe is a high value for the Tucson, Arizona community.
What happens to our water if the electric grid goes down? Tim provides clarity and knowledge as to what every citizen needs to understand, should a severe power outage occur.
Contaminated water or contaminants in the water? Headlines create clicks online – go past the shock factor and learn the truth on this podcast.
 GET INFORMED!
GET ACTIVE!
Music used in this podcast is copyrighted and licensed through Turtle Island Records/Libby Roderick Music