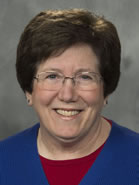 Truth be told, Sharon Megdal is her very own Wikipedia when it comes to everything you ever wanted to know about water. The scope of her work ranges from local to international. Her current projects include things like comparative evaluation of water management, policy and governance in growing, water-scare regions; groundwater management and governance; groundwater recharge; and transboundary aquifer assessment. On top of that, Dr. Megdal is fun and engaging and knows how to translate science into English. I am delighted that I finally get to interview her.
INSIGHTS
Sharon has a great job! She gets to work on water issues, using applied research and outreach/education, in a very constructive way.
Everyone is a water stakeholder – helping people be better informed, so that we can all participate in water management, is essential. In all parts of the world, important decisions need to be made about water and those decisions are based on constituents. So – we all truly matter when it comes to our water.
What is a wicked problem? Sharon delves into these types of problems and how we can get beyond trying to solve these types of problems and try simply to improve the situation.
In approaching water issues, Sharon shares really important strategies of how we can improve our situation. Listen to this podcast to learn more!
40% to 60% of a community's water use is for outside irrigation! Unless the irrigation use is benefiting keeping the home shaded, to help with energy efficiency, that outside water use needs to decreased.
Will it take a water crisis to move people to invest in water conservation? Education is the key – we have tough decisions to make as a global community and we all need to be informed. Sharon examines a number of the barriers we face and how we can join together to address them.
If it is to be, it is up to me – don't take water for granted!
GET INFORMED!
GET ACTIVE!