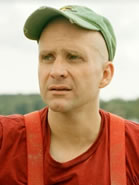 When I heard Bren Smith present at Bioneers 2016 last October, I literally jumped up from my seat to get to the line forming of people who wanted to talk to Bren. My mission? Get him on the MGW show. He is AMAZING, fun, funny, inspiring and brilliant. A lifelong commercial fisherman since age 14, Bren has pioneered "restorative 3D ocean farming" to restore ecosystems, mitigate climate change, create blue-green jobs for fishermen, and ensure healthy food for communities. From a very young age, Bren witnessed the destruction of the ocean firsthand. In a quest for a better way, he pioneered a revolutionary new model of harvesting bounty from the seas. Join us to hear Bren's story including his future vision for restorative 3D ocean farming. To me Bren is the Triple Bottom Line (People, Plant, Profit) all wrapped up in one human being with a very big heart. Please join us. This show made possible due to the generous support of The Fairfax Companies.
INSIGHTS
After working for industrial fishing companies and experiencing his own setbacks with oyster farming due to hurricanes, Bren Smith realized that ocean farming methods needed to change in order to mitigate and adapt to the impacts of climate change
Instead of growing species that are most profitable, Bren asked himself: "What species can I grow that will not only be sustainable, but will help restore the ocean?"
From this perspective, Bren created the "restorative 3D ocean farming" model, which uses the entire water column to grow a variety of species – ranging from mussels and scallops, to sugar kelp and oysters
The crops grown with the restorative 3D model don't require any fertilizers, freshwater or antibiotics – making it the most sustainable (and affordable) farming method on the planet (while creating jobs, mitigating climate change, and bringing more nutritious foods to the table)
GreenWave was created to train and educate new farmers committed to using the 3D restorative ocean farming model and share their knowledge with other farmers who are interested
They aspire to put those who were left behind during the industrial revolution (under educated, marginalized communities) at the front of the line, create opportunities for them and bring to light food justice
There are 10,000 edible plants in the ocean – which provide huge opportunities for new food sources and ways our food system can expand in a sustainable manner!
Where waters are too polluted to farm food crops, such as areas with high concentrations of heavy metals, kelp farming happens anyway because it absorbs the pollutants and then it can be harvested for biofuel!
Kelp is also used for so many other things, like fertilizer, cattle feed, and of course, a nutrient dense food for us (kelp is the new kale).
"We exist to restore our oceans, mitigate climate change, and create jobs." – Bren Smith
GET INFORMED!
GET ACTIVE!