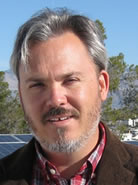 There is a LOT of news about solar and the City of Tucson and this show will cover it all! The City of Tucson is committed to leading the way with solar installations on City properties and are truly walking the walk. Since 1999, Tucson has installed 25 photovoltaic arrays and 7 solar hot water heaters on City properties, including community centers, the Tucson Convention Center, the City's Price Service Center, police substations, a parking garage, a reservoir deck, etc. There are currently about 4.7 MW (megawatts) of solar power at these locations. The solar hot water installations are at a community center, two fire stations, a swimming pool and the police/fire training academy. Tucson purchases nearly 10MW of solar power from Tucson Electric Power's Bright Community Solar Program, which means that the City has closer to 14.5MW of solar energy we use or purchase, which amounts to about 12% of Tucson's electricity. Join us to hear all about it! This show made possible due to the generous support of City of Tucson Environmental Services.
INSIGHTS
For over 20 years, the City of Tucson has employed a full time Energy Manager.
The Tucson community as a strong advocacy for addressing climate change. There is a new commission developing within the city: The Commission on Climate, Energy and Sustainability – the members will be made up of representatives from around our community and will serve as an advisory board for the Mayor.
Jason shares a number of highlights that are happening right now within the City to continue moving the sustainability needle forward in Tucson – listen to learn more!
What is a neighborhood scale water-harvesting program? Jason gives us the details in this podcast!
The faceless villain of climate change can strike in many ways – and the natural disasters we are facing these days is giving climate change a face. What is your city doing to create a sustainability plan around climate change?
Jason shares what The City of Tucson is doing currently, around renewable energy, and what the plans are for the future – and what is happening to reach one of the major goals: save money for the City of Tucson.
Solar energy has a history of challenges but a future of possibility! Jason gives us insight into solar energy and how it has become affordable and a strong renewable energy option. This podcast is packed with great information – listen today!
Really important that your home or business is energy efficient, in partnership with it's solar use! The Energy Specialist in Tucson is a partner of Mrs. Green's World and can assist you with your energy efficiency and solar use!
GET INFORMED!
GET ACTIVE!
Come to the Arizona Living Economy Forum on September 17, 2017!