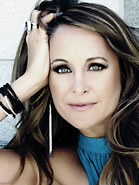 Get ready for Marci Zaroff and get ready to change your life. Marci's mission is to revolutionize the global fashion and textile industries, driving sustainability through creative vision, inspiration, education, collaboration & innovation.
She is a recognized visionary and authority in organic/sustainable apparel & home fashions. She has created a unique development, distribution and monitoring business model to ensure that the process and the products remain pure, transparent and authentic. She coined the term "eco-fashion" and has helped to make it a household word while shining a light on the "filthy fashion" industry.
Do you know where your clothing comes from and at what cost in terms of the human capital? Do you know that most cotton is toxic and water heavy? Join us to find out what the Number One Green Fashionista and the revolution she is helping to create with other thought leaders paving the way for all of us. This show sponsored by Mrs. Green's World Earth Day Celebration 2014.
SHOW NOTES
INSIGHTS
Why is it important to rethink how clothing is made, not only those made from synthetic materials, but also those made from natural fibers like cotton? Well, conventional cotton represents 3% of the world's agriculture but uses up to 25% of the world's most harmful insecticides and needs 10% of global carcinogenic pesticides to grow. When the cotton goes through the processing, dying, and finishing, it is hardly the 'natural' fiber it once was.
Conventional textile production is extremely natural resource and labor intensive, not to mention textile waste occupies of over 5% of all of our landfill space!
There are many fast fashion alternatives available at various retailers like Nordstrom, H&M, and even more available online – fast fashion is not the only way!
The GOTS certification (similar to the USDA Organic & Fair Trade Certifications) guarantees textiles are not produced with harmful chemicals like formaldehyde, chlorine bleach, and pesticides. It not only certifies environmentally safe textiles, but it also ensures the textiles were produced in a socially responsible manner.
"The ramifications of the textile industry are significant and so that for me, full circle here, was the catalyst that said; ok my mission is to revolutionize the industry." – Marci Zaroff 
GET INFORMED!
GET ACTIVE!
Don't forget that shopping secondhand is a great way to shop in an environmentally conscious manner, since no new natural resources are needed. Plus, you'll never know what you'll find!
Learn more about what happens when clothing becomes fast, cheap and disposable here
Learn more about the environmental impacts of the clothing industry here