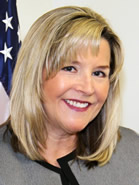 Kathy Prather, Deputy Superintendent, JTED (Joint Technical Education District)
The Pima County Joint Technical Education District (Pima JTED) is a public high school district that provides tuition-free career and technical education to all sophomore, junior and senior level high school students in Pima County, Rio Rico, and San Manuel to give them a head start on college and careers. And it's not all about academia. What I admire and respect about JTED is that they offer real, relevant, get-your-hands-dirty so you can get a job Career and Technical Education programs. Not every student wants to go to college (even though JTED can help prepare students for that) so JTED helps kids learn how to operate heavy equipment and cabinet making and precision machining/manufacturing and so much more. JTED is championed by employers who recognize the value that a skilled labor force brings to our community. This show is in memory of Gary Gibson – a mentor, a beloved community member, and our friend.

INSIGHTS
JTED's (Joint Technical Education District) mission is to deliver premier technical education programs; it is about collaboration and opportunities in high school to be fully prepared for college and career readiness.
Technical education is applied academics – the delivery is done in partnership with the community and a key is to develop workplace employ-ability skills.
We have a shortage in the United States of a skilled workforce – by 2020 there is a projected shortage of one million workers in info tech!
Currently, there are 71 different programs, nationally, that JTED offers and students who complete these technical educations tend to complete college at a higher success rate and lower drop out rate.
What is a digital maiden and a digital immigrant? Get the scoop on this podcast!
Project based learning is a way to apply one's education – giving the students an opportunity to share their knowledge is key.
There is not a job shortage – there is a shortage of people with the technical skills needed to fill those jobs.
65% of jobs today require post-secondary education – careers that we are preparing our students for today won't exist in 10 years!
Kathy shares the amazing ways that JTED is collaborating with national partners on this podcast – great opportunities for our young people!
GET INFORMED!