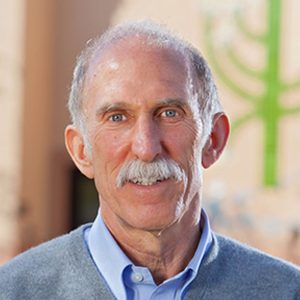 Did you ever stop to think about how near-forgotten childhood experiences might be impacting your adult life? And did you know that injured or neglected children often take their revenge on the least dangerous person in their Universe: themselves? Join me to be a part of a conversation with the medical director of Tucson Medical Center's Hospice, to hear his stories and teachings that illustrate the consequences of how we sabotage our personal lives, our relationships and society. And learn about the transformative power of compassion and love. You might be wondering how this fits with being #disruptors for good and working for a sustainable and socially just world? Sustainability towards the planet starts from within and from learning how to sustain our bodies, minds and spirits. Come explore with me! This show made possible due to the generous support of Tucson Medical Center.
SUPPORT THE CREATION OF PODCASTS LIKE THIS ONE: BECOME A MEMBER TODAY!  
INSIGHTS
Lincoln is the author of the book, Reclaiming Banished Voices and it captures stories on the road to compassion in very dynamic ways.
How does this topic relate to the work of preserving our planet? Mrs. Green lays out the correlation at the beginning of this podcast – join us for a powerful insight to kick off this podcast.
What was the spark of inspiration for Dr. Lincoln to write this book? It was September 11, 2001. Learn how this story unfolds on this show.
The root of this work stems from an event in Dr. Lincoln's life when he was 5 years old. Listen to this show and join us on a very powerful journey.
Lincoln shares the unfolding of his personal experience, as he began the process of going through Elisabeth Kubler-Ross' workshops. It is a story of humor, anger, love and growth – you will not want to miss out…join us today!
How have the voices in our lives shaped us? What power do we gain from embracing the voices and allowing them to guide our lives?
It is essential to have unconditional love in your life – who is your person and how do you know their love is unconditional?
If we don't pay attention to the voices in our lives – if we are not able to be introspective and pay attention, the voices are in control and our emotions rise up to take control. The ripple effect of those voices can shift one's whole world. When you are connected and enlightened by those voices, the ripple effects are decorated by love.
How can we create space to hear the pain of others? Is being right more important than sharing love?
Green has two reflections on Reclaiming Banished Voices– it helps us understand why we are in the world we are in today and meditation can take many forms.
GET INFORMED!
GET ACTIVE!
Purchase your copy of Reclaiming Banished Voice here
Music used in this podcast is copyrighted and licensed through Turtle Island Records/Libby Roderick Music