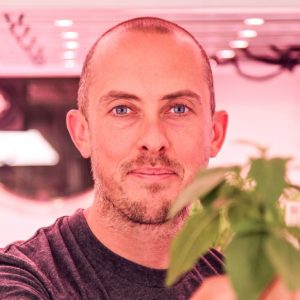 How does one company use technology-powered urban farming to grow a huge diversity of specialty crops for the world's finest restaurants? Two words: vertical farming. But just what is vertical farming? What are the numerous advantages when growing perishable crops for city populations in year-round controlled conditions?  Rob Laing will have the answers. As the ONLY vertical farming company growing hundreds of different specialty crops in city centers, Farm.One is constantly innovating above and beyond the basic vertical farming approach. They believe smaller farms close to customers can provide most or all of the specialty produce for tomorrow's cities. Simply put, Farm.One is the future of food. Come with me on this journey into the future of clean food and why Farm.One is a poster child for sustainability. It will give hope to all of us and hope for the future of food.
SUPPORT THE CREATION OF PODCASTS LIKE THIS ONE: BECOME A MEMBER TODAY!  
INSIGHTS
Rob's journey was based on the desire to do something real and traces back to food in Japan – great personal story shared on this podcast.
Is there a technology approach that would allow us to grow very unique food year round? Why is New York City the perfect environment to test indoor agriculture? Join us for this show to learn more!
Vertical farming and related technologies (like hydroponics) offer vast benefits – including no use for pesticides and significantly less need for water (saving between 80 and 95% as compared to traditional agriculture).
You might be surprised at the impact of growing food vertically in terms of food waste – learn more on this show!
One production has so many benefits for the customer – including tracking from seed to harvest. They are not trying to be the biggest farm; they are just trying to be the best.
Rob approaches farming with an engineer's mindset – most agriculture done today is very data driven. Getting the most revenue out of every square foot is key – Rob and his team have built software for every aspect of their farm. Join us to learn more!
If you think about how plants have evolved – you can divide them into two categories: grow in direct sunlight or in the shade or canopy – how this science plays out in terms of lighting at Farm.One is amazing.
How does Rob get his products to his clients? It does not involve shipping in a truck and cold storage. You will want to push play on this podcast to learn more and be inspired to find new systems in your community.
Why are New York chefs flocking to use Farm.One products? The partnerships formed between Rob and his clients are inspiring – Rob gives us a closer look at these dynamic relationships.
One offers classes for everyone and great additions to bring to your event – check out their website and join them at the farm today!
Compromised food systems are contributing to disease – people have become aware of problems in the global food system and the work being done at Farm.One is a step toward healthy solutions.
The future of vertical farming is very bright – accessible and scalable. Rob shares his predictions for the growth of vertical farming and his vision for the future – join us for this very important show.
GET INFORMED!
GET ACTIVE!
Music used in this podcast is copyrighted and licensed through Turtle Island Records/Libby Roderick Music