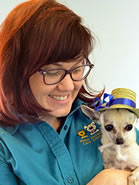 This shelter is Pima County's only open admission shelter. They have the largest selection of dogs, cats, puppies and kittens just waiting to find a loving home, a new friend, a special companion.  Their pets are microchipped, spayed or neutered, vaccinated and even come with a free visit to the vet! Karen knows all the ins and outs of this impressive organization and will fill us in on some of the challenges they face, the programs they provide and, most importantly, how you can connect with them to adopt a pet, become a volunteer and learn about meaningful ways to support this organization that does so much to care for the four-leggeds. Can't wait for this one. This show is in loving memory of Pam Hodges.
INSIGHTS
Pima Animal Care Center (PACC) is the county run shelter in Pima County, Arizona. The county is about 9,000 square miles and the center does all things pet related for the county. Find out all that the center offers in this podcast.
Did you know that the PACC takes in about 18,000 animals a year?
PACC offers outreach services to the community and these services are truly shifting the way pets are being cared for in Pima County. Karen discusses these services during this podcast – listen and learn more about the great service PACC offers to Pima County and the late breaking news that will result in changes happening July 2017!
PACC is at a 90% save rate right now and they want to reach the 98% save rate marker.
PACC has a low barrier adoption process – they work from the philosophy that most people will be good pet owners, so they work hard to make it as painless as possible to bring a fur baby into your family.
Not able to bring a pet into your family right now but want to help support PACC? You can donate on PACC's website or purchase off their Amazon wishlist! They need volunteers for all kinds of things involved with "kennel enrichment", adoption and administration – learn more here
GET INFORMED!
GET ACTIVE!