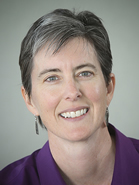 TEP is not your average utility company. They have a proven track record of and commitment to the critical balance between providing service to their customers and protecting sensitive resources. From maintaining transformers and distribution poles along a city street to siting and construction of transmission lines, they care. Programs and initiatives like their Raptor Protection, Beat Back Buffelgrass removal efforts and their cactus rescue efforts are just a few examples of their integrated approach to being good stewards of the community in every way they can. Join us to hear more about the how and the why! This show made possible due to the generous support of Tucson Electric Power Company.
INSIGHTS
Shannon's background is in resource management, land development and protection of sensitive resources. She has worked for river authorities, state agencies and environmental agencies. Ten years ago, she came to Tucson Electric Power (TEP) and her team works with land rights when it comes to equipment placement.
Shannon's work is the in-depth research that goes behind every piece of equipment we see in our community that belongs to TEP – especially being good stewards for wildlife and vegetation in the area.
What are cultural resource areas? Listen to this podcast to learn more and how Shannon's team works with archeologists to conserve cultural environments.
Mrs. Green shares what it means to do a "deep dive" into environmental issues and concerns; and why it is essential that we do so.
When you protect sensitive resources, it is to the benefit of our larger community. It goes beyond compliance and is the true representation of good stewardship for the planet.
The small footprint is the wise footprint.
GET INFORMED!
GET ACTIVE!