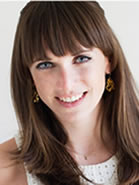 All I can say is yikes and you don't want to miss this one. Alden Wicker is shaking things up, calling us all out and sharing how what she thinks are better ways to save the world. Doing things like consuming less, carefully choosing what we buy and asking the waiter where our fish is from is, for Alden, too little too late and no substitute for systemic change. So what's the answer? You will have to join me to find out. Alden will share her thoughts on how to make decisions that help the environment. I can't wait to find out how she went 200 days without buying anything new and learned how toxic our need for possessions is and why she advocates that the next clothing item we purchase is so expensive it hurts. Let's shake it up with Alden!
INSIGHTS
Alden is changing the way we think about consumption and what it means to live a 'green' lifestyle, especially through her blog EcoCult where she showcases everything sustainable, from food to fashion.
With much of the world's population living in urban areas, trying to be environmentally sustainable by homesteading is not a possibility for everyone. Alden shows that it's possible to be environmentally conscious while living in a city and turns the phrase "fun things are for people who don't care about the environment" on its head.
Where did we go wrong with conscious consumerism? The answer lies in our unwillingness to take a step further than the cash register and participate in the political realm. Alden believes that our most pressing environmental issues require us to go beyond our own individual consumption choices. Reaching out to government officials (who have a large influence over what happens with our natural environment and to some extent, companies) and becoming active in policy, can help change the status quo.
Listen to the full podcast to hear Mrs. Green and Alden discuss the steps needed for helping to make greater, systemic change and how to avoid 'decision fatigue'.
GET INFORMED!
Check out EcoCult on Instagram Pinterest Facebook or Twitter to see more from Alden and tips on making a greener lifestyle, possible.
Professor of Environmental Science and Policy, Halina Brown has spent many years uncovering the fallacies behind conscious consumption. Learn more about it in this report she co-authored.
GET ACTIVE!
What other ways does a green lifestyle look like? Check out this podcast featuring Lauren Singer, the woman who stuck one year's worth of trash into a mason jar!
What are some organizations that are making a difference in the lives of people and for the environment? Ten Thousand Villages — Mrs. Green discusses their work in this podcast
Check out Canopy, the organization that works with some of the world's biggest clothing brands to help them leave unsustainable rayon materials out of their clothing and help protect forests.