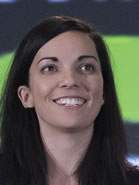 When you have an organization that spans six continents, 10 branch offices and 135 countries, where does one begin to engage, connect and activate a global network of thousands of change agents through its programs and campaigns? Just ask Olena and it's highly likely she will know many of the answers. And chances are, she will answer them with ease and grace. Olena knows the Climate Reality Leadership training program inside and out and knows how to train leaders to help in building planet-wide momentum for climate solutions including how to plan their first steps. She is one of the leaders of a diverse group of passionate individuals at the forefront who have come together to solve the greatest challenge of our time: climate change. Please join me as I explore with Olena some of the inner workings of this impactful organization and find out how she successfully manages to keep all of the wheels on this big green bus going round and round.
INSIGHTS
97 percent of climate scientists agree climate change is real and caused by humans, which means we are the only ones who can bring about the solutions. Former Vice President Al Gore recognized this, which is why he founded The Climate Reality Project a few years after 'The Inconvenient Truth' shocked the world. He wanted to turn awareness into action — with a diverse group of individuals by his side, they are doing just that.
What is the mission of The Climate Reality Project? Through various initiatives, global storytelling, and community engagement, The Climate Reality Project spreads their mission which is; "…to catalyze a global solution to the climate crisis by making urgent action a necessity across every level of society".
The Climate Reality Project brings people around the world together every year for 24 hours in order to discuss the many impacts of climate change and what actions are being taken to combat them. By highlighting the incredible work being done by communities and individuals all over the world, '24 Hours of Reality' brings together the ideas and stories happening around making a cleaner and stronger world possible.
Our climate crisis is shaping what kind of present and future opportunities are available, especially for young people. The Climate Reality Project recognizes the critical role young generations play in pushing for more clean energy and a sustainable world. Through their Campus Corps initiative, students at participating campuses can get involved with striving to make their campus a more sustainable place by committing to abandon fossil fuels.
"There is too much bad news to justify complacency. There is too much good news to justify dispair" and I think about that and this movement every single day, that's how I start and end my day and I think that's what we all try to do here" – Olena Alec.
What other ways is the Climate Reality Project engaging with communities around the world? Join this podcast and hear Olena and Mrs. Green discuss the incredible support given to concerned individuals who want to take action on climate change!
 GET INFORMED!
 GET ACTIVE!
Learn more how you can get involved with the Climate Reality Project like becoming a Climate Reality Leader
Join Climate Reality by taking a pledge to stand with truth and stand with reality
Watch videos on the Climate Reality Project's YouTube Channel to learn more about the work they have done all around the world