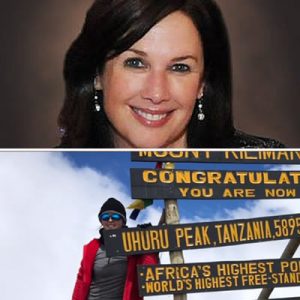 What amazing or extraordinary things were you accomplishing at 15? I am hard pressed to come up with anything I can think of on my end. Meet Sydney Loudermilk who has published her first book, Ordinary People Extraordinary Accomplishments, at age 15. Impressive? Well, she started writing it when she was twelve. The book brings the world of outdoor adventure through hiking to kids of all ages. Sydney embarked on this journey to earn her Girl Scout Silver award which is the highest award a middle school (Cadette Girl Scout) can earn. What inspired her to write a book? What were some of her biggest challenges when it came to all that it takes to actually get a book published? Hope you will join me to hear from someone I am sure will surprise and delight! This show made possible due to the generous support of Tucson Medical Center.
SUPPORT THE CREATION OF PODCASTS LIKE THIS ONE: BECOME A MEMBER TODAY!
INSIGHTS
The issue of getting kids outside was the inspiration behind Sydney's project to earn her Silver Award – the highest award a Girl Scout Cadette can earn – at the age of 12.
What did Sydney experience on this journey? What were the surprises and the challenges? Learn more on this podcast!
This book is an adventure story for kids about three friends that learn hiking skills (25 of them) through their adventures.
From her first trip to hike the Grand Canyon to accomplishing her goal of hiking rim to rim – Sydney is a young woman with a mission in the world. She has completed 1 of the 7 highest summits in the world – the other 6 are on her list!
What is the McKinley Edge? Sydney gives us an experts lesson – listen to learn more!
What was Sydney's experience hiking Mount Kilimanjaro? You may be inspired to hit the trails yourself…
What has Girl Scouts meant to Sydney? To reach new levels – past the summit of the mountain – Girl Scouts have provided Sydney with the tools and opportunity to reach her dreams and set new ones.
Debbie shared an important message about preservation of our planet and what Girl Scouts does to truly be stewards of the environment – #thekeyiswe
Mrs. Green shares a really important insight into a key of preserving our planet – and it starts with parents and caretakers of children. We will all want to embrace this message!
 GET INFORMED!
 GET ACTIVE!