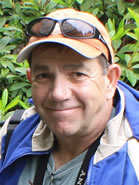 Have you ever heard of another utility company in the United States with an entire program dedicated to safeguarding raptors and other wildlife? Please let me know if you have. In any case, welcome to one that I know about and absolutely love: Tucson Electric Power's Raptor Protection Program. This nature and wildlife friendly program is an ongoing effort to safeguard electrical equipment to protect birds such as Harris' Hawks, Great Horned Owls and Red-Tailed Hawks in Pima County, Arizona. It can even be called a prevention program because for more than 15 years, TEP has worked with wildlife biologists at the University of Arizona to identify and evaluate parts of the electrical system that need protection and to design innovative solutions to mitigate the danger electrical wires pose for large birds. Why do raptors, or birds of prey, favor utility poles for perching, hunting and socializing when their large wingspans make them more susceptible to electrical hazards? When is their nesting season and why does that matter so much?  And what can you do to help when you discover a raptor or a BABY raptor in need of help in your neighborhood? Lots of questions, lots of answers. Bird Watcher Mrs. Green can't wait for this one. Please join us! This show made possible due to the generous support of Tucson Electric Power Company.
Watch a fun post-interview of this podcast.
INSIGHTS
For over 25 years, the Tucson Electric Power Raptor Program has installed raptor protection on every new pole installed in the service territory; and they have a nest protection component – TEP does nest surveys annually to find active nests and protect poles within a 300-meter radius within active nests.
Birds can get themselves into trouble with electric poles by electrocuting themselves or colliding with the poles and injuring themselves.
One great resource for best practices: Avian Power Line Interaction Committee
How can a bird be electrocuted on a power line? Don't we see birds sitting on power lines all the time? Learn how this happens by listening to this podcast!
This program is connected via great partnerships throughout the region – it is a great illustration of how the key is WE. Terrific opportunities exist for YOU to get involved – listen to learn more!
Have you witnessed an incident with a raptor or nest and power lines? Call the Tucson Electric Power Customer Service line: 520-623-7711
GET INFORMED!
GET ACTIVE!