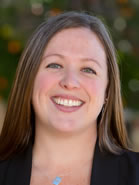 When we think about cornerstones of a healthy community, we think about aspects like food systems; waste management; recreation spaces and quality health care facilities. But do we consider the decisions and operations that go into making those facilities healthy spaces? The laundry facilities of a hospital are essential to keeping the hospital running, but they directly impact the patients' well being. Lacey Kimball will give us a sneak peek into the laundry operation at Tucson Medical Center – what conservation efforts are in place and what decisions are made when it comes to products being used to keep the laundry clean and toxic free. Join us for this unique topic and a lively conversation, that has applications for all facility operations in our community. This show made possible due to the generous support of Tucson Medical Center.
INSIGHTS
Lacee worked for TMC for a few years and then left to live in another state….but returned and TMC welcomed her back with open arms.
The laundry service at TMC is on campus – on premise laundry – which is very rare!
Because the laundry service is on campus, they have control on the detergents they use and have a lower carbon footprint because there is limited numbers of vehicles transporting laundry.
What is the volume of laundry at TMC? Lacee gives us an insider's look during this podcast!
With so many people having allergies to products, how does TMC address these issues? Listen to this podcast to learn more!
TMC currently works with the Gospel Rescue Mission to donate linen that can no longer be used in the hospital.
GET INFORMED!
GET ACTIVE!