Best of Show – Climate Reality: What's Next?
Tuesday, October 24 at 12:00 am (PT)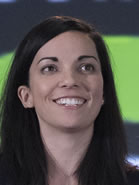 Olena Alec, Director of Climate Reality Leader Engagement, Climate Reality Project
When you have an organization that spans six continents, 10 branch offices and 135 countries, where does one begin to engage, connect and activate a global network of thousands of change agents through its programs and campaigns? Just ask Olena and it's highly likely she will know many of the answers. And chances are, she will answer them with ease and grace. Olena knows the Climate Reality Leadership training program inside and out and knows how to train leaders to help in building planet-wide momentum for climate solutions including how to plan their first steps. She is one of the leaders of a diverse group of passionate individuals at the forefront who have come together to solve the greatest challenge of our time: climate change. Please join me as I explore with Olena some of the inner workings of this impactful organization and find out how she successfully manages to keep all of the wheels on this big green bus going round and round. This show made possible due to the generous support of the Chapman Automotive Group.
LISTEN NOW

Download MP3