What's YOUR Potential?
Thursday, October 5 at 12:00 am (PT)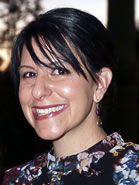 Jennie Grabel, Director of Community Impact, Social Venture Partners Tucson
Social Venture Partners is an exciting and ever expanding community of engaged philanthropists dedicated to building the capacity, strength and impact of nonprofits in addressing social problems. They believe it starts with one person who joins many people and together they will help build entire communities able to solve some of the most entrenched social challenges. Join us to hear my dear friend Jennie Grabel share information about SVP's programs, initiatives and impact. You will be inspired and encouraged in what many of us believe are challenging times. This show made possible due to the generous support of LP & G Marketing.
LISTEN NOW

Download MP3