The City's Got Solar!
Thursday, September 14 at 12:00 am (PT)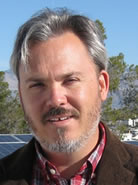 Jason Laros , Energy Manager, City of Tucson
There is a LOT of news about solar and the City of Tucson and this show will cover it all! The City of Tucson is committed to leading the way with solar installations on City properties and are truly walking the walk. Since 1999, Tucson has installed 25 photovoltaic arrays and 7 solar hot water heaters on City properties, including community centers, the Tucson Convention Center, the City's Price Service Center, police substations, a parking garage, a reservoir deck, etc. There are currently about 4.7 MW (megawatts) of solar power at these locations. The solar hot water installations are at a community center, two fire stations, a swimming pool and the police/fire training academy. Tucson is one of 25 cities designated as a Solar America City by the U.S. Department of Energy (DOE) in recognition of this history of solar leadership. Join us to hear all about it!