BEST OF SHOW: Conscious Consumerism: The Big Lie?
Tuesday, November 7 at 12:00 am (PT)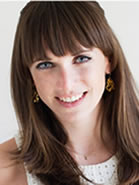 Alden Wicker, Founder, EcoCult
All I can say is yikes and you don't want to miss this one. Alden Wicker is shaking things up, calling us all out and sharing how what she thinks are better ways to save the world. Doing things like consuming less, carefully choosing what we buy and asking the waiter where our fish is from is, for Alden, too little too late and no substitute for systemic change. So what's the answer? You will have to join me to find out. Alden will share her thoughts on how to make decisions that help the environment. I can't wait to find out how she went 200 days without buying anything new and learned how toxic our need for possessions is and why she advocates that the next clothing item we purchase is so expensive it hurts. Let's shake it up with Alden! This show made possible due to the generous support of the Chapman Automotive Group.

Download MP3