Can You Handle the Truth?
Tuesday, October 10 at 12:00 am (PT)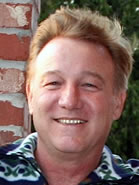 James Buizer, Deputy Director for Climate Adaptation and International Development, Institute of the Environment, Professor of Climate Adaptation, School of Natural Resources and the Environment, University of Arizona
And I am sure there's more! I am not even going to venture a guess as to what topics will be covered in this show. I promise there will be good, solid content, no alt-facts and lots of fun. Jim is one of the smartest human beings I have ever met, sits on more Boards than I can keep track of, and shares my sense of humor. I am sure Jim will weigh in on his thoughts about climate deniers as well as give us an in-depth look at the important work being done at the University of Arizona surrounding climate adaptation. If time allows, I will ask Jim to share with us some of the important work that national organizations are doing to make our planet healthier and safer. Oh the places we'll go! The show made possible due to the generous support of the Chapman Automotive Group.