2017 AESS CONFERENCE
Wednesday, June 21 at 8:00 am (PT)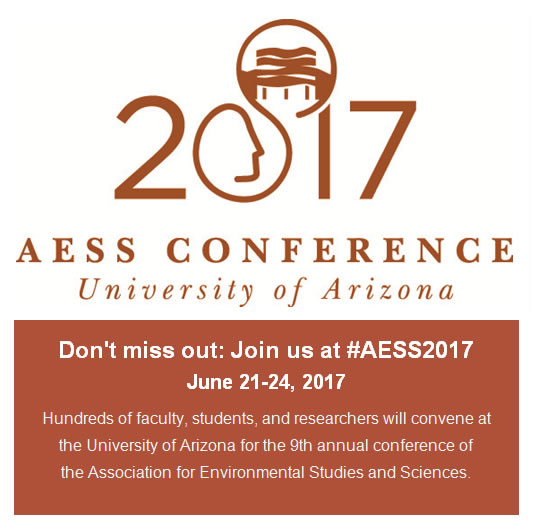 Why Attend?
Network with over 250 people in the environmental and sustainability arenas.
Choose from more than 60 sessions ranging from Natural Resource Conservation and Management to Environmental Arts and Humanities; Energy and Water to Climate Change and Pedagogy.
Hear Keynote Speaker Tom Fleischner, Executive Director of the Natural History Institute and Faculty Emeritus, Prescott College.
Join Mrs. Green as she moderates a panel on Hearing Voices: Finding Solutions by Integrating Grass Roots, Local Government, and Academic Knowledge and Perspectives.
Sign up for one of eight field trips, ranging from a "foodie tour" of Tucson (designated a UNESCO World City of Gastronomy) to visiting the San Xavier Mission and seeing what the UA Compost Cats are up to.
Experience first-hand the LEED-platinum Environment and Natural Resources 2 building.
Need we say more? The Institute of the Environment is excited to host this superb conference. We look forward to seeing you there!
Registration costs $375 and includes a one-year AESS membership; discounts apply for current AESS members, students, and single-day attendees. Additional fees apply for field trips and for in-depth workshops held on Wednesday, June 21. Walk-in registrations will be accepted during the conference.