It IS Easy Being Green!
Thursday, July 20 at 12:00 am (PT)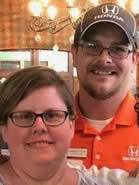 Lisa Tantlinger, Chair & James Castetter, Members, Chapman of Tucson's Community Green Team
A little over seven years ago, a small group of dedicated individuals came together because they wanted to make a difference for their company, their community and the planet. Watch out world because they have! Please join us to hear some of the many accomplishments of this team from two of the team's core members. From eliminating plastic water bottle use in many of their car dealerships; to sponsoring clothing drives; to partnering with an agency in Haiti to raise money for poverty orphans, this team is green from the inside out and there is no stopping them. You will be surprised, delighted and impressed by the breadth and depth of their accomplishments and might even be inspired to start a green team at your place of employment. And did I say we will have some great fun? This show made possible due to the generous support of The Chapman Automotive Group.
LISTEN NOW

Download MP3