Find Your New Best Friend!
Thursday, June 29 at 12:00 am (PT)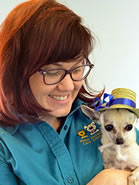 Karen Hollish, Director of Development and Marketing, Pima Animal Care Center (PACC)
This shelter is Pima County's only open admission shelter. They have the largest selection of dogs, cats, puppies and kittens just waiting to find a loving home, a new friend, a special companion.  Their pets are microchipped, spayed or neutered, vaccinated and even come with a free visit to the vet! Karen knows all the ins and outs of this impressive organization and will fill us in on some of the challenges they face, the programs they provide and, most importantly, how you can connect with them to adopt a pet, become a volunteer and learn about meaningful ways to support this organization that does so much to care for the four-leggeds. Can't wait for this one. This show is in loving memory of Pam Hodges.
LISTEN NOW

Download MP3