The Right Thing To Do
Tuesday, June 20 at 12:00 am (PT)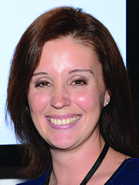 Danielle Wolowitz, VP Corporate Marketing Group at KYOCERA Document Solutions America, Inc.
Imagine an international company whose philosophy is all about what is the right thing to do as a human being. And further imagine that this corporate philosophy is something they instill in the minds of over 69,000 employees worldwide. I have it on the best authority that the founder of Kyocera, Dr. Kazuo Inamori, is the embodiment of that philosophy as evidenced by Kyocera's commitment to the production of award winning eco-friendly products and their toner recycling program. Join us to learn about these important practices and to hear about what this VP of Corporate Marketing at Kyocera's Document Solutions, Danielle Wolowitz, does to insure the corporate culture is in alignment with the philosophy of doing the right thing as a human being. I think you will love it. This show made possible due to the generous support of
The Chapman Automotive Group
.