BEST OF SHOW: Your Moment of Truce!
Thursday, October 26 at 12:00 am (PT)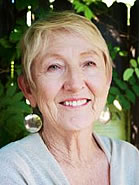 Diann Peart, PhD, Principal and Visionary, Truce
Imagine a company whose core values include making cleaning products that are not at all harmful to your health or the health of the planet IN ANY WAY? Imagine a company that is honest and completely transparent with their customers, vendors and suppliers. Imagine a company that values wisdom and being in service to the community and to the planet and that is also fun! Imagine products that are 100% TOXIN FREE and contain safe, simple ingredients, only 14 in their entire line? And those products are so safe that you can even pronounce every single one of them. Imagine TRUCE! Having a hard time believing all this? Join me for your Moment of Truce to learn for yourself. It's a pretty exciting experience and I can't wait to share. This show made possible due to the generous support of The Fairfax Companies.
LISTEN NOW

Download MP3