Tucson Emerging for Good!
Thursday, May 18 at 12:00 am (PT)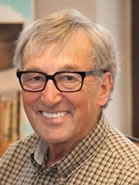 Peter Dobrovolny, Driving Force, Tucson Emerging 2030 District
After spending less than five minutes with Peter Dobrovolny, it was very clear: this man is on a mission to combat climate change and engage others to combat it with him. Peter is the force behind the Tucson Emerging 2030 District- a private-public-nonprofit collaborative working to create groundbreaking high performance building districts in Tucson that aim to dramatically reduce energy and water consumption as well as climate-changing emissions from transportation. These targets were set forth in Architecture 2030's national Challenge for Planning. Tucson is still categorized as "emerging" but are well on their way to joining notable cities that have achieved 2030 District recognition including Seattle, Denver and Albuquerque. Join us to learn more about this exciting movement that will help demonstrate that high performing buildings can be the most valuable and economical buildings in the region.  This show made possible due to the generous support of Seaver Franks Architects.
LISTEN NOW

Download MP3