BEST OF SHOW: All You Need is Less!
Tuesday, August 1 at 12:00 am (PT)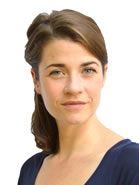 Madeleine Somerville, writer, blogger and author of the book All You Need Is Less: A Guilt-free Guide to Eco-Friendly Green Living and Sress-Free Simplicity
I think we are on a roll here with some of our guests and the message is a great one: people are getting rid of and are getting tired of having too much stuff! And I can already tell Madeleine is a stitch. She writes Sweet Madeleine blogs with titles like How to Parent From Bed and How to Design Your Home to Support Self-Reliance. She is fun and funny and to make my case, here is an excerpt from her book that I found to be pretty darn funny:  Most eco-friendly books start with terror-inducing lists of the carcinogenic chemicals you are liberally slathering all over every single surface in your house, painting most people as unwitting eco-villains, happily Lysol-ing their way straight to hell. Well, readers can just relax and unpack the (plastic) bags – no guilt trips today!"  Bring in on, Madeleine, we are all ears! The show made possible due to the generous support of The Fairfax Companies.
LISTEN NOW

Download MP3