BEST OF SHOW: Trash is for Tossers!
Saturday, January 21 at 12:00 am (PT)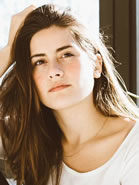 Lauren Singer, Founder & Waste Free Planet Preserver
Meet Lauren Singer – she lives a zero waste life in New York City of all places. Two transformative moments/events showed up in Lauren's life. The first was in her senior year of college when one of her professors emphasized the importance of living ones values and it made her think about her own personal commitment to the environment. The second was when she noticed that a fellow environmental studies major would bring lunch to class every week in a single use plastic bag, a disposable water bottle and a takeout container. She would think – we are supposed to be the future of this planet and here we are with our trash – messing it up. Lauren says "Then I learned about this family in California, calling themselves the Zero Waste Home, that was producing little to no garbage, it was this "Aha!" moment for me. I wanted to lessen my impact, so I started my Zero Waste journey. This is when I really decided that I not only needed to claim to love the environment, but actually live like I love the environment." Take it from there Lauren! And so she did! Lauren will share just what she has done to live like she loves the environment. I can't wait to hear her share her story. It's a good one. This show made possible due to the generous support of The Chapman Automotive Group.