BEST OF SHOW – Bread, Wine, Chocolate: the Slow Loss of Foods We Love
Broadcast on 2016/10/29 (PT)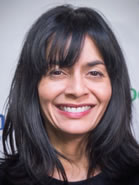 Simran Sethi, award-winning journalist & author
I am so thrilled to report that I have met and spent time with Simran Sethi and she is quite impressive on so many levels. The following is a quote from Harper Collins: "Award-winning journalist Simran Sethi explores the history and cultural importance of our most beloved tastes, paying homage to the ingredients that give us daily pleasure, while providing a thoughtful wake-up call to the homogenization that is threatening the diversity of our food supply. Food is one of the greatest pleasures of human life. Our response to sweet, salty, bitter, or sour is deeply personal, combining our individual biological characteristics, personal preferences, and emotional connections. Bread, Wine, Chocolate illuminates not only what it means to recognize the importance of the foods we love, but also what it means to lose them. Award-winning journalist Simran Sethi reveals how the foods we enjoy are endangered by genetic erosion-a slow and steady loss of diversity in what we grow and eat." Whet your appetite? I hope so. This show made possible due to the generous support of Habitat for Humanity.

Download MP3
HOW DID YOU GET ON YOUR PATH?
I was researching something else in Italy and scientists were telling me that they were really concerned about the loss of agricultural biodiversity. I knew about endangered species, but I didn't realize our food was at risk. I was stunned. Once I learned what was at stake, I quit my job (as a tenured associate professor), sold my house, gave away my car, and embarked on a 5 year journey across 6 continents to better understand what the loss of agricultural biodiversity meant. I eventually decided to tell the story through foods that I love (bread, wine, chocolate, coffee, beer).
INSIGHTS!
– No food or deliciousness is immune to what is about to happen in losing biodiversity. There are a host of reasons of why our diets change over time (climate change, globalization industrialization, etc.), but every one of those reasons leads a loss of biodiversity. This increases overall risk.
– No financial advisor is going to recommend you put all your money into 2 stocks and you'll be fine for the rest of your life. We diversify to reduce risk. Same thing with food but but we're not doing that. We are growing fewer varieties, eating fewer varieties. 75% of our food is coming from 12 plant and 5 animal species. 95% of our calories comes from just 3 species.
– We need the diversity to be more resilient for climate change, combat disease, etc. Right now we're ok, but we're on a perilous path to secure food security in the future.
We're doing 3 things to save biodiversity:
-In place: Preserving biodiversity where it grows in the wild. We also preserve the crop's wild relatives, which can help us to save what we love.
-Out of place: Preserving seeds at seed banks. In a way, zoos are preserving animal diversity.
-In place on farms: Preserve biodiversity on farms, for example heirloom tomatoes which you find at farmer's markets.
– Tasting vs. Just Eating or Drinking: Tasting is different from drinking and eating. Eating is an act of digestion. Lift to mouth, chew, swallow, process. Taste is something we all do and all have."It's not just for foodies or sophisticates. Taste is universal and personal.
– "Seeds are sex." – Luigi Guarino. You'll have to read the book to find out more about this one!
– Chocolate has more flavor compounds than wine. It's 50% fat. All the flavor compounds are released as the cocoa butter starts to melt. Once you've savored really good chocolate, when you eat "junk" chocolate it tastes like rubber.
– How do you get to the point where I am that way about wine? Drink more wine! Whatever it is that you want to develop a relationship with, eat/drink more of it (kale, juice, wine, etc.). Be present, show up, taste it. Write down names of wine you like. That helps us to remember and recall what it is we liked. What separates novice from pro? Pros have a language to describe it. You can develop your taste for wine by learning language to describe it.
HOW TO TAKE ACTION!
-Come together over food! Food unifies us. We are all different (politics, beliefs, cultures, etc.) but we all eat.
– Slow down when eating and drinks – Savor and enjoy more!
-Support small farmers, your local farmer's market and try some new things! Women make up the majority of small holder farmers. We are the ones that can shape the future!
– COOK more and eat a variety of foods!
– Eat less prepackaged, fast and convenience foods.
– Spend some extra money on a piece of good, fair trade chocolate. Savor it. Don't wolf it down. Experience it.
– Choose the craft instead of industrialized beer, try the wine you haven't tried before!
RESOURCES:
– Read Simran's book and find lots content on her website!
– Follow her on Twitter and Facebook
– Watch her TEDx talk "Why and how do we engage?"
– Luigi Guarino, Senior Scientist, Global Crop Diversity Trust 
– Stefano Padulosi, Senior Scientist, Biodiversity International