How to Green Your Halloween!
Tuesday, October 11 at 12:00 am (PT)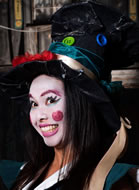 Judith Simmons, Director of Marketing, Goodwill Industries of Southern Arizona
Why would anyone go out and buy a "ready-made" Halloween costume when you can visit your local Goodwill and have a total blast? Not only are you not going to look like 20 other Martians, Pokemon Go or Batman, you are going to use your creativity to bring new meaning to the phrase "DIY."  Join us to hear from Judith all about what special tricks and treats you might be able to find during your visit. And why it's important to donate some treasures from your own wardrobe while you are at it! I am looking forward to this and wonder if I will be tricked or treated! This show made possible due to the generous support of Goodwill Industries of Southern Arizona.
Photo: Old Tucson Studio, Arizona
Photographer: Fenix.Fox (Josh Nistas)