Localist Ranch to Table Dinner with Chef Janos Wilder
Saturday, August 20 at 7:00 pm (PT)
James Beard Award winning Chef Janos Wilder of DOWNTOWN Kitchen + Cocktails and the newly-opened The Carriage House invites Localists to attend an exclusive and collaborative "Ranch to Table" dinner. Highlighting the Eloy-based Double Check Ranch, attendees will enjoy an array of pasture-raised beef dishes, as well as sumptuous sides and tantalizing desserts. The evening will be hosted by Janos himself, and will include cooking tips, as well as "shop talk" between Chef and the artisans of Double Check Ranch as well as Flying Leap Vineyards & Distillery.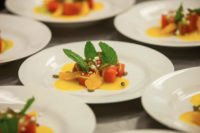 Menu:
– Chile Colorado
– Frijoles de la Olla
– Salsa Fresca
– Sides of the Day
– Local hand-pressed tortillas
– Corn cookies, lime ice cream, cajeta
Dishes paired with Arizona-made wines from Flying Leap Vineyards & Distillery
Localist Ranch to Table Dinner with Chef Janos Wilder
Saturday, August 20th at 7pm
The Carriage House
125 S. Arizona Avenue, Tucson, Arizona 85701
Cost:
Localists: $40
Non-Localists: *$60
*Non-Localists will receive a year-long Localist Membership with purchase of ticket!
This event is brought to you by the Local First Arizona Localist Program. Localists receive special offers and invitations to exclusive events around the state from some of Arizona's favorite local businesses. Not a localist yet? Sign up here!
#AZLocalist